Super Bowl LIII is Here--$6 Billion Is About To Be Wagered On The NFL Annual Showdown
The AGA extimates 22.7 million Americans will wager $6 billion on the Super Bowl this weekend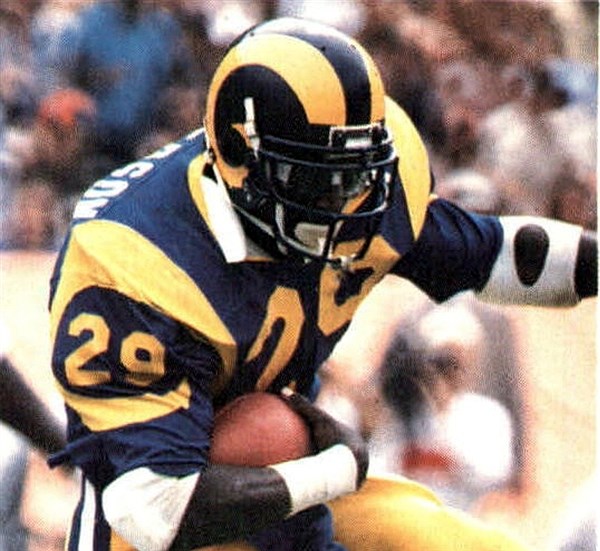 La Rams
(credit: "1985 Police Raiders/Rams- #20 Eric Dickerson". KIIS Radio/Los Angeles Rams/Los Angeles County Sheriff's Department. 1985.)
On Sunday, February 3, the LA Rams and New England Patriots will face off in Super Bowl LIII. The American Gaming Association (AGA) says that 1 in 10 Americans plan to bet on the game putting $6 billion dollars of sports bets in play.
The AGA gets its numbers from a survey it commissioned from Morning Consult. Extrapolating from a survey of 2,201 adults, the AGA expects 22.7 million sports fans to put money on the game.
52% of the action will go on the Rams with 48% going to the Patriots.
"The interest in legal, regulated sports betting in the United States has never been higher," said Bill Miller, AGA's president and chief executive officer.
"More Americans than ever before will be able to place their bets with legal sportsbooks now operating in eight states, generating valuable revenue for state, local and tribal governments and increasing fan engagement with the game."
After the Supreme Court overturned the Professional and Amateur Sports Protection Act, seven states quickly jumped on the legal sports betting bandwagon. Nevada already had legal sports betting, so now sports fans can place wagers in eight separate states:
Nevada
New Jersey
Mississippi
Rhode Island
West Virginia
Pennsylvania
New Mexico
Delaware
In total there are now 261 locations where fans can place bets on the Super Bowl. Fans in Nevada, West Virginia and New Jersey can also bet online—check out the options here.
The black market will take most of the money
A separate analysis by PlayUSA calculated that bets in the states where sports betting is legal will amount to around $325 million.

That leaves $5.675 billion to be mopped up by unlicensed bookmakers. The street corner bookie and the offshore sites in places like Costa Rica will have a field day.
The AGA used the numbers to appeal for more states to legalize sports betting:
"These results, however, also point to the continued viability of the dangerous, illegal sports betting market in America. It is more important than ever for jurisdictions to enact sound policies that provide a safe, legal alternative with protections for the nearly 23 million Americans who will place a bet on the big game."


Nevada remains sports betting nirvana
Last year, casinos in Nevada took in $158.6 million when the Philadelphia Eagles beat the New England Patriots 41-33.

This year the casinos are hoping to do even better. Yes, the Patriots are looking to regain their title from two years ago, but the Rams have a grudge.
The last time the Super Bowl pitched the Rams against the Patriots was in 2002. The Patriots won by 20 to 17, and the Rams are looking to reverse that victory.
The history between the two teams is generating extra interest from sports fans and that usually translates into extra betting. Nevada should pick up over $160 million in bets on this year's game, making it a record breaking Super Bowl for Silver State casinos.
Previews & Tips News Articles