Want to find the best online slots? We show you the best games plus show you the casinos where you can play them.
Top Online Slots

Why play Online Slots?

What is slot volatility?

Popular Slot Types
Top Online Slots
Slot games are, by far, the most popular games at online casinos; they are fun, exciting, with spectacular graphics, sound effects, progressive jackpots and themes. You can find a slot in virtually every theme you could think of; whether it's adventure themed games like Lara Croft Tomb Raider, games based on TV shows like Game of Thrones or even games based on popular land-based titles like Book of Ra.
Why play Online Slots?
With a history spanning over 120 years, slot machines have come a long way. Little did San Francisco based Charles Fey know that when he created the 'one armed bandit' in 1887, his invention would be one of the most loved games in the world!
We are, of course, referring to the slot machine or fruit machines as they used to be known; the early machines featured three reels showing the four suites of cards; Heart, Clubs, Spades and Diamonds. It was only later that fruits were used as symbols leading it to be called a 'fruit machines'.
Slot machines were a success instantly and have only gained in popularity as they made their presence known world-wide. With the advent of the internet gaming which resulted in slots going online, its popularity simply grew in geometric proportions.
The appeal of online slots is easy to understand; it is a simple game requiring very little money for a potential massive slot jackpot. When it was first invented, slot machines were considered state-of-the-art but online slots are truly impressive with their capabilities.
Sophisticated video technology has enabled software developers to create online games that can replicate sights and sounds from the real world, creating a unique gaming experience. Online video slots, unlike traditional slot machines don't have any restrictions in terms of number of reels and pay lines. This is of great advantage to a player as it creates multiple avenues of wins.
Unlike the traditional slot machine, where the three symbols on the middle line had to be the same in order for the player to hit a jackpot, today's online slot player has a variety of ways to win. Online slot games offer anywhere from 5 pay lines to even 255 pay lines with massive slot jackpots.
There are a number of advantages to playing slots over other games at online casinos;
Unlike games like roulette and blackjack, learning to play an online slot game requires virtually no training. Simply open the game, select your bet and you're ready to go
You can gather up loyalty points very quickly
You can potentially win a lot of cash thanks to games that offer big progressive jackpots.
You can clear bonus wagering requirements quicker with slot games
They are entertaining, and most casinos offer at least 100 different slot games for you to choose from
What is slot volatility?
Simply put, slot volatility is the amount of risk in a game; it describes how much you could expect to win when you play a slot game. There are games that offer small wins frequently and there are those that offer occasional wins of larger sums.
High Volatility Slots
A slot with high volatility has a higher risk; while there is the potential for a higher payout, you could possibly keep playing and watch your balance dwindle. However, when you do win, the payouts make it worth it. High volatility slots are popular with players who prefer big wins and games like Book of Ra, Gonzo's Quest and Piggy Riches are good examples.
Low Volatility Slots
Low Volatility slots are those that offer you frequent but smaller wins and are considered low risk. This is not to say that there are no big wins with low volatility slots but they are not as frequent. These types of slots are preferred by players who would like small wins and enjoy entertaining bonus rounds. Starburst slots is probably the most popular low volatility slots
Popular Slot Types
3 Reel Slot Machines are the simplest slot machine types with 1 to 8 pay lines, some of them may or may not feature bonus games. You make a bet and then pushes the spin button and depending on the result of the spin, you either win or lose.

5-Reel Slots or fruit machines are slot games that have 5 reels which can have anywhere up to 9 pay lines. Typically these online slot games have higher resolution graphics and more features. Usually, a 5 reel slots game will have a bonus game which yields a better payout.
9 Reel Multiline Slots resemble a 3 reel slot but the reels on the 9 reel slot spin independently. Pay lines are 3 horizontal, 3 vertical and diagonal lines and you can decide the number of lines they would like to bet on.
Bonus Slots are slot machines with a bonus round. These slots games are great fun to play and offer multiple winning opportunities.
Multiline Slots offer more than one pay line, which means increased chances of winning. Pay lines can be anywhere from 5 to over 243 paylines. Unlike classic slot games, multiline slots allow you multiple payouts. So you can win on several pay lines at one go, depending on the winning combinations allowing a small wager to have a large return.
Progressive Jackpots are slots that are linked to a common jackpot; the jackpot amount is made up from each play made, across every player who uses that game and is usually the biggest prizes available from a game. Linked progressive slots are a variation of the standard progressive slot where slot games are linked to form a massive progressive slot with jackpot amounts being substantially larger.
The amount of the pot isn't fixed and is built up over time and once the progressive jackpot is won, the prize amount is reset to some minimal value and the build-up of funds begins again. There are a number of progressive jackpots available at casinos including games like Ultimate Genie, Captain Nemo, Millionaires Club, Biker Pigs and Going Nuts slots.
Best Online Slots
It's a great time to be an online slots player in the US. In 2013 when online gambling was first legalized, the selection was small. Only a handful of slots were available for adventurous internet gamers. But over the years, that number has increased drastically. So much so that some casinos can boast hundreds of different slots. But what are the main games to look out for at an online casino?

Starburst Slots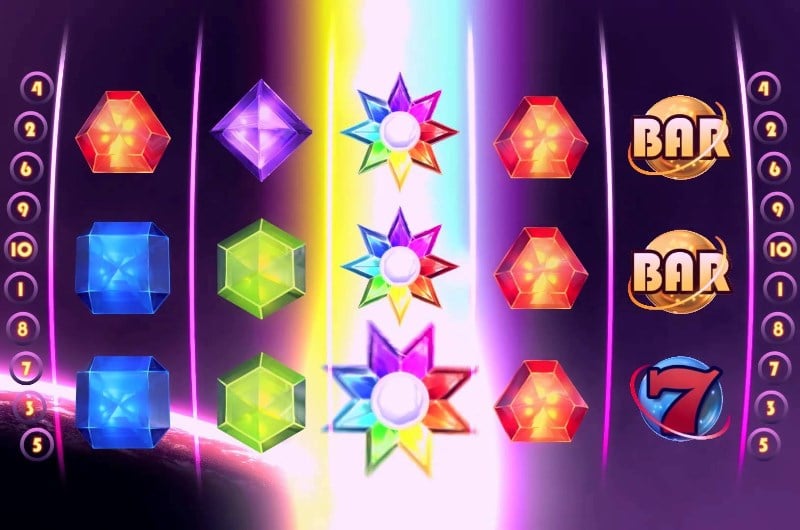 Starburst is a game that has achieved legendary status in online casinos the world over. It's the go to game for beginners and those who want a more refined gaming experience. With just 10 paylines, this is an easy slot to start out with. And while the primary bonus feature is also simple, it's one you will likely not forget. The Starburst wild feature occurs on reels 2, 3 and 4 - when the wild falls, it will expand and cause a free re-spin. Up to 3 wilds can appear on the central reels - which is the key to unlocking a 50,000 max win.

Divine Fortune Slots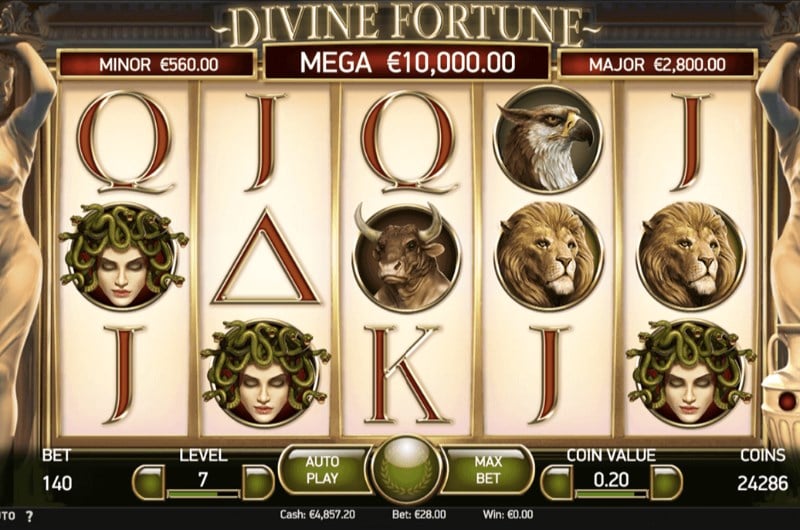 NetEnt made another positive impression on the gambling market with the Divine Fortune slot game. One of the most popular jackpot games in the state, there are a total of three progressive prizes to play for. Activate the jackpot round and you will reveal coins to see which one of the three progressives you will win. The ancient Greek themed game also comes with several wild features including expanding wilds. Will the gods bless you with good fortune? You will have to play and see...
Slingo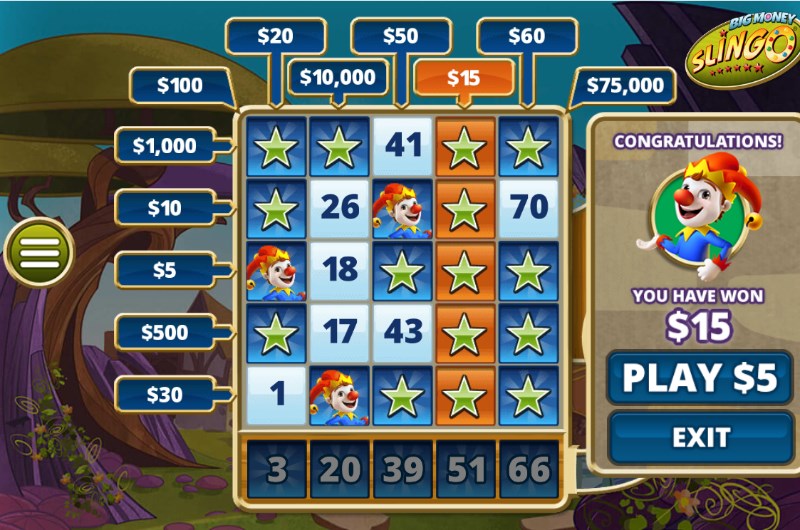 On the surface, Slingo appears to be some kind of Frankenstein like creation. Bingo and slots together: how can it work? But it does work and more importantly: it works well. The speed of a slot combined with the precision of bingo - that's the best way to describe this game. On each game round, you will be given six balls.
Think of these balls as your currency to spin. When you spin, you use up a ball and randomly generated numbers will be displayed. Then you need to mark these numbers on the reel/playing card. Completing lines or sections of the card award big prizes. There is also a special jester symbol that lets you check any area you wish and the opportunity for even more free spins with certain bonus balls.
Gonzo's Quest Slots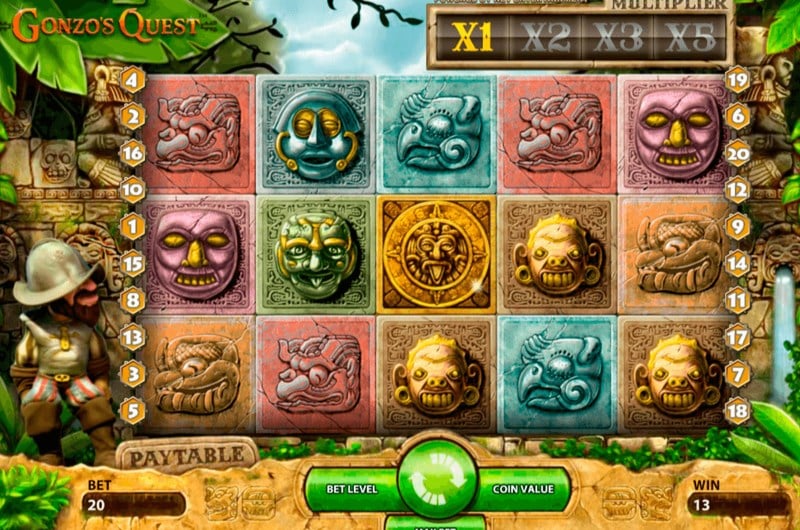 NetEnt has quickly become one of the of the most popular online gambling slot choices. The developer's games are fun, come with flashy graphics and entertaining bonus features. Gonzo's Quest is a perfect example. This 20 payline tumbling reels slot starts to impress as soon as you hit your first win. Winning waves will increase a multiplier all the way to 5x if you can continue winning. But if you activate the free spins feature, this multiplier can increase all the way to a jaw-dropping 15x. If you want more in the way of free spins however, you may want to consider Da Vinci Diamonds slots.

Cleopatra Slots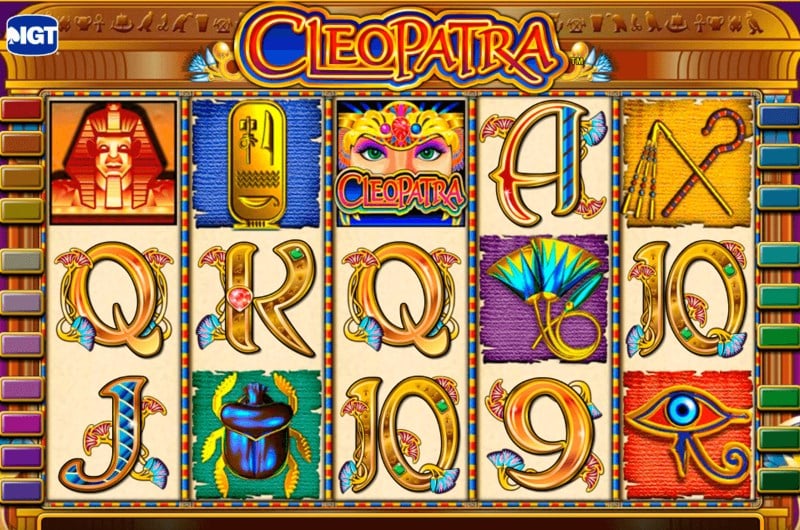 If you're only looking for high variance slots action, then look no further than the stunning Cleopatra slot. One of the most played slots of all time, the Egyptian themed slot has become a stalwart in online casinos. The free spins in this game are a popular attraction; activate the bonus and you can look forward to 15 free spins with triple wins. That's not all; matching 3 or more scatters will also award an instant win prize. Match five and you will win 100x your total staked bet. The game became so incredibly popular that developers IGT created a Megajackpots version. Slot enthusiasts can win millions of dollars with a single spin.
Da Vinci Diamond Slots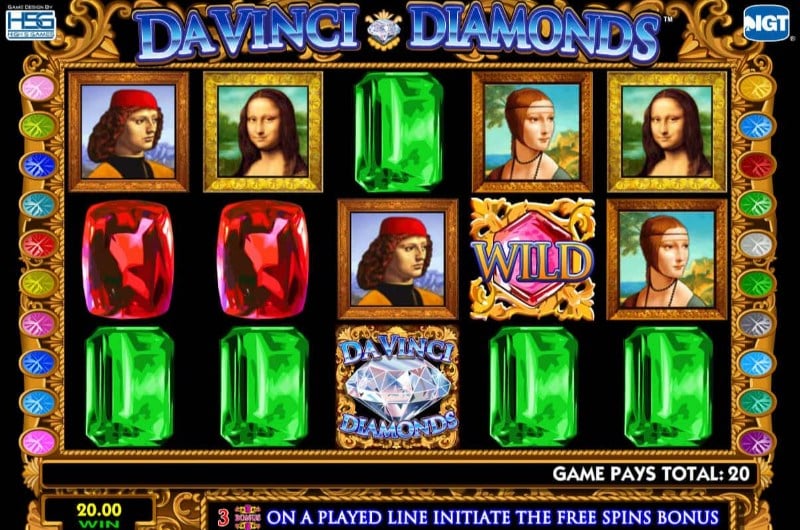 If you love a free spins bonus round, tumbling reels and the sight of classic art, then you need to play Da Vinci Diamond Slots. IGT's classic slot is perfect if you like the idea of a long free spins round. Not only can you win up to 15 on the initial trigger, you can also play up to 300 free spins for more scatter combos. It's fair the say this slot paints a perfect picture when it comes to tumbling reels slots.