Blackjack is one of the most popular online casino games and involves both luck and strategy.
How to play Online Blackjack

What are the rules of blackjack?

Blackjack Variations

US Online Blackjack - FAQs
Online Blackjack
Blackjack is one of the most popular games at land-based casinos, so it comes as no surprise that the card game is just as popular at online casinos worldwide.
How to play Online Blackjack
Blackjack is one of the easiest table games to play and learning the basics couldn't be simpler. The objective of the game is to draw cards as close to 21 as you can. A blackjack is when you total 21 with two cards.

To play blackjack online, simply head over to one of our recommended
online casinos
Register an account

Make your first deposit

Visit the game lobby and pick a blackjack variation.

We suggest you start with Classic Blackjack as it's the purest and simplest form of the game. The game has player friendly odds but if you want to play a few practice rounds, you can always play the Demo version first. Most online casinos will give you the option to try before you buy.
What are the rules of blackjack?
Ace can be counted as 1 or 11 points, Face cards are worth 10 points while 2 to 9 cards are worth their value


Card value is calculated by adding the points of all cards in a hand. The highest value is of a "Blackjack" which is the total of a face card and a 10 point card


You have the following options available to you when you are dealt your first two cards:


Stand – You don't add any more cards to your stack


Hit – You take another card


Double – You double your bet and take just one more card


Split – If you have a pair or any two 10 point cards you can split your hand and separate it into two hands.


Surrender – You forfeit half you wager when you surrender.

It is worth noting that blackjack variations might have different rules; for example the payouts percentage might differ, there might be different rules about insurance, splitting cards, doubling etc. For more information on a game, always click on the 'Help' or '?' on the game screen. This will provide you with additional information about your blackjack game.

When you're ready, all you have to do is place a bet; we suggest you start small and try a few rounds before you up the ante. Once you have decided on your bet, click on the Deal button. You will be dealt two face up cards while the dealer gets one upcard. Depending on your cards you can Stand, Hit, Double Up, Split etc. The person with a hand closest to 21 points wins.
Blackjack Variations
Here are some of the popular blackjack variations at US online casinos
Atlantic City Blackjack
Atlantic City Blackjack
is the version that is probably the most well-known amongst blackjack enthusiasts and the rules are really simple too. In this version of blackjack, you can split two cards of the same value three times giving you up to four chances to beat the dealer. Other features include the option to double down on two cards as well as with a split.
Another reason why Atlantic City blackjack is so popular is that you can claim half your wager back after you've seen your first two cards which, if used wisely, could stretch your gaming budget that bit further.
You can play with as little as $1 per hand with up to $1,000 making it ideal for all levels of players.
Atlantic City Blackjack Rules
Eight decks
Dealer peeks on 10 value cards and aces
Dealer stands on Soft and Hard 17
Double down on any two cards
Double down after split
Split three times to make four hands
Aces can only be split once
Only one card dealt to split Aces
Split aces do not award blackjack
Late surrender is allowed
Live Dealer Blackjack
Interestingly, live dealer games are not offered by all online casinos in New Jersey but we think it's only a matter of time before its offered by all casinos.

Live Dealer Blackjack is has the same rules as classic blackjack, the only difference is that instead of playing against a computer, you are playing in a land based casino environment without leaving your home. Just as you would in a casino, you pick a table, place your bets and start playing.

Live Dealer Blackjack Rules
Eight Decks
Dealer stands on a soft 17
Double down on any two cards
Double down after a split
Side Bets Allowed – Perfect pair, coloured pair, mixed pair
Payouts are 3:2
Insurance on bets allowed
Surrender allowed
Vegas Blackjack
Another classic blackjack variant,
Vegas Blackjack
can be found at a number of online casinos. This is a multi-hand version giving you the opportunity to play with up to five hands per game which is a great way to potentially optimize your returns.
Vegas Blackjack Rules
Four decks
Play up to five hands
Aces can be split 3 times
Double down on any two cards
Dealer stands on soft 17
Two cards of matching value can be split
No surrender
Insurance is 2:1
No insurance on additional hands created by split
How to win with Online Blackjack
Blackjack is considered to be a skill game and what that means is that with some practice, you can get better at the game. Here are some tips to help you better your game:

Learn the rules of your game; as mentioned before, each variations of blackjack will have rules specific to that game and it is always a good practice to understand the details before you begin
Practice; if you are a complete newbie to the game, we suggest you play the demo version of online blackjack a few times until you are absolutely familiar with terms like Stand, Surrender, Double, Stay, Split etc.
Diminish the Dealer Advantage; the dealer has one face up card and one face down card. As you have two face up cards and must act first without knowing the dealer's face down card, you are put at a certain disadvantage. To mitigate this, we suggest you go through our blackjack strategy sheet to help you decide when to stand, hit, split or double.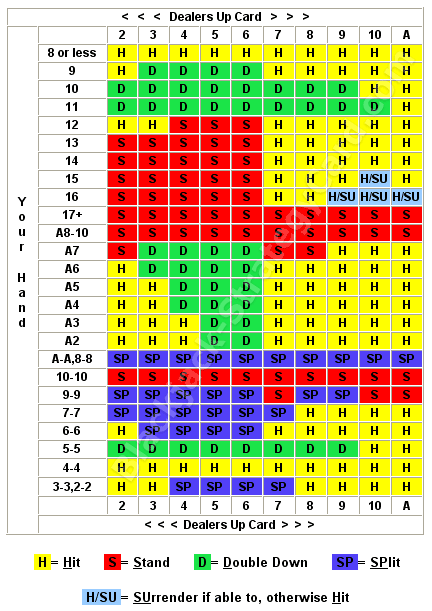 Ensure you have a betting strategy; it is best to be consistent with your bets. Remember that all decks in the game are the same; there are no hot or cold decks. Blackjack is based on probability and chance and therefore, trying to beat the house with a betting progression will not work.
US Online Blackjack - FAQs
Is online blackjack legal in the United States?

Online blackjack is legal in certain states that have regulated online gambling. However, the legality may vary depending on your location. It's important to check your local gambling laws before playing.

How do I play online blackjack?

To play online blackjack, you need to find a reputable online casino that offers blackjack games, create an account, and make a deposit. Once done, select a blackjack variation, place your bets, and aim to get a hand closer to 21 than the dealer without exceeding it.

Are online blackjack games fair?

Reputable online casinos use random number generators (RNGs) to ensure fair outcomes in their blackjack games. These RNGs are regularly tested and audited by independent third-party organizations to maintain fairness and transparency.

Can I play online blackjack for free?

Yes, many online casinos offer the option to play online blackjack for free in demo or practice mode. This allows you to learn the rules, test strategies, and enjoy the game without risking real money.

What are the different variations of online blackjack available?

Online casinos provide various blackjack variations, including classic blackjack, European blackjack, Atlantic City blackjack, and more. Each variation may have slight rule differences, so it's essential to familiarize yourself with the specific rules of the game you choose.

Can I count cards in online blackjack?

While card counting is a popular strategy in land-based casinos, it's challenging to implement in online blackjack due to the use of RNGs and frequent deck shuffling. Online casinos also have countermeasures to prevent card counting.

Can I play online blackjack on my mobile device?

Yes, most reputable online casinos have mobile-friendly platforms or dedicated mobile apps that allow you to play online blackjack on your smartphone or tablet. This allows you to enjoy the game on the go, as long as you have a stable internet connection.