Stake.us Dragon Tower Guide - How to Play Dragon Tower
Dragon Tower is an easy-to-play game of chance with tremendous payout potential
This guide explains how to play Dragon Tower, as well as looking at each of the five risk levels
The win multipliers range from 1.31x to 256,901.12x
Start climbing Dragon Tower with our NEWBONUS promo code
What is Stake.us Dragon Tower?

How to Play Dragon Tower at Stake.us

Stake.us Dragon Tower Payouts

Dragon Tower Strategy

Free Dragon Tower with Stake.us Free Coins

Stake.us Dragon Tower Guide - FAQs
Climb your way up Dragon Tower by revealing the sacred eggs and avoiding the dragons to earn some epic wins.
What is Stake.us Dragon Tower?
Dragon Tower at
Stake.us
is a straightforward game that challenges players to choose a step on each level to proceed up the tower. There's a slight oriental flavor to this title; however, it virtually goes unnoticed as the focus is on collecting eggs and watching the cash-out amount increase as you scale the tower.
There are similarities between
Stake.us Mines
and Dragon Tower in that players get to pick certain stones (or squares). But whereas Mines gives you the choice of the whole board, Dragon Tower is more controlled in the selections you can make on each level. That said, if you're a fan of Mines, we're sure you'll find this game entertaining too.
How to Play Dragon Tower at Stake.us
There are only two things to think about when learning how to play Dragon Tower. One is the number of coins you want to wager (the bet amount), and the second is the difficulty level. There are five levels to choose from.
Easy Difficulty
We'd recommend starting here when you first try Dragon Tower. As with all levels, there are nine steps to the top of the tower in total. On easy difficulty, you have four columns. As a player, you must choose one of the four steps/stones.
There are three eggs and one dragon on each level. The minimum payout (for one correct pick) is 1.31x. If you make it all the way to the top, the multiplier pays out 13.05x.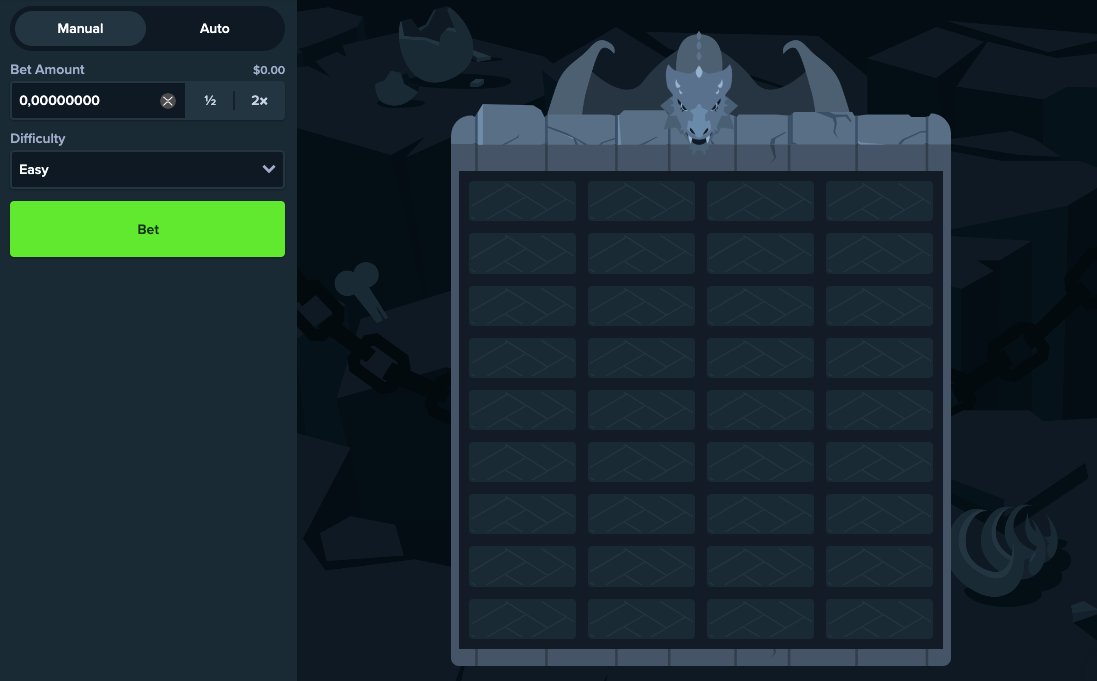 Medium Difficulty
Once you have a grasp of Easy, the setup for the Medium difficulty level is instantly understood. Here, there are only three columns, with two eggs and one dragon on each step of the tower. As this level is tougher, the top multiplier is 37.67x, which is nearly three times more than Easy.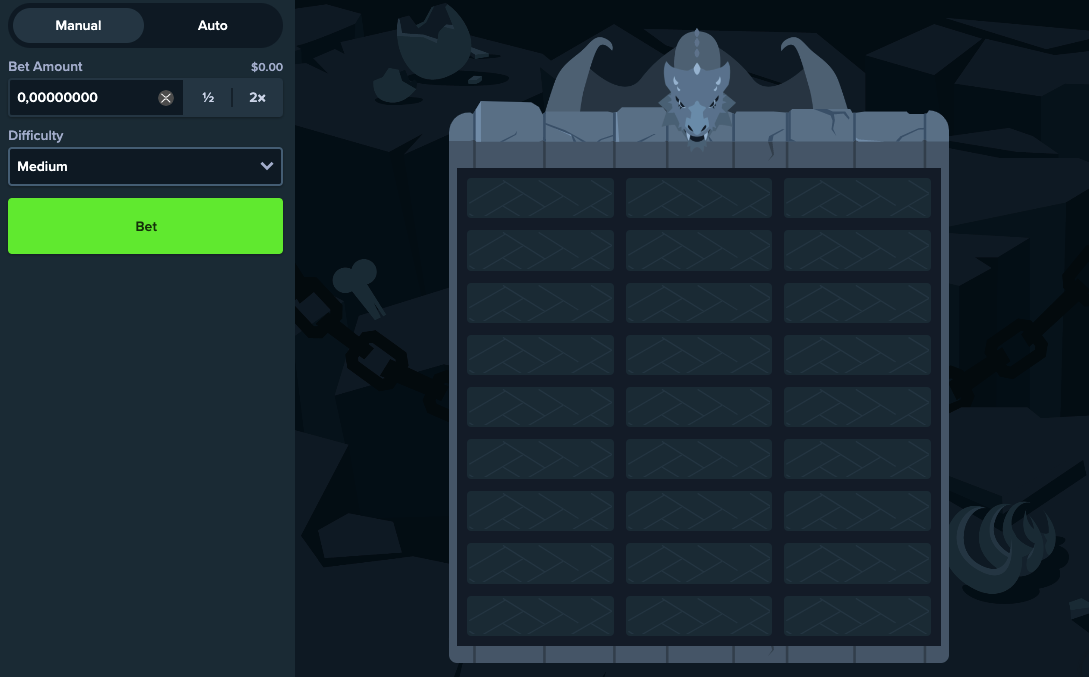 Hard Difficulty
On the Hard difficulty, players only have two columns with one egg and dragon on each level. This is essentially a 50/50 call. The payout for one correct guess is 1.96x, which equates to a 98.00% RTP.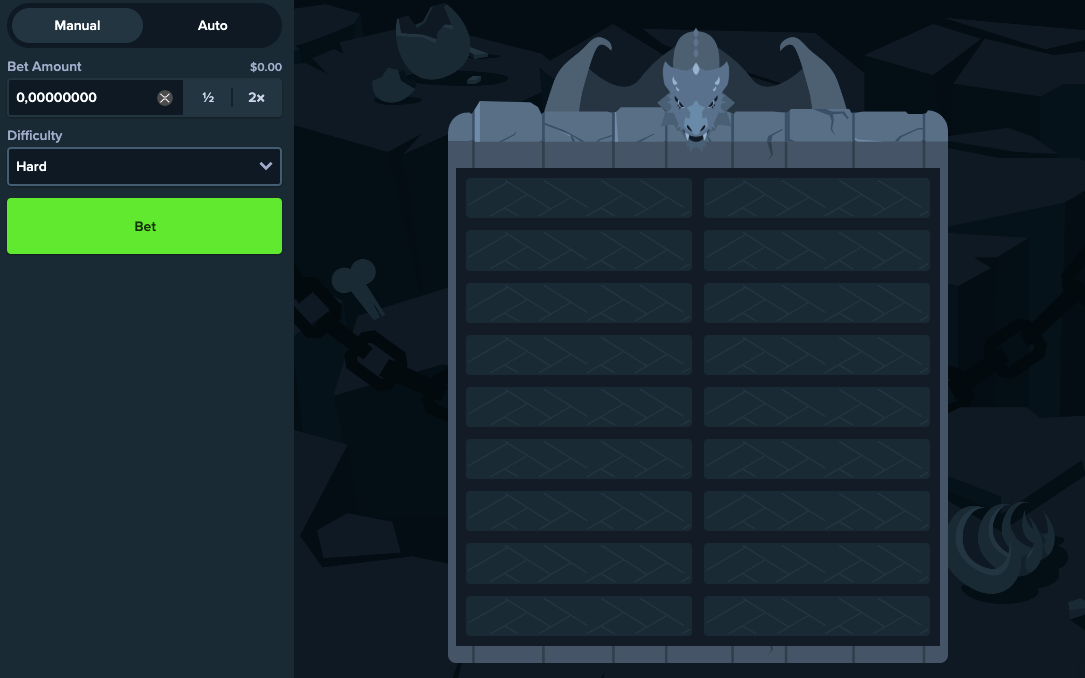 Expert Difficulty
Expert difficulty uses three columns. However, now there are two dragons and only one egg per step. The payouts range from 3.94x for one correct guess up to 19,289.34x for collecting all nine eggs up to the top of the tower.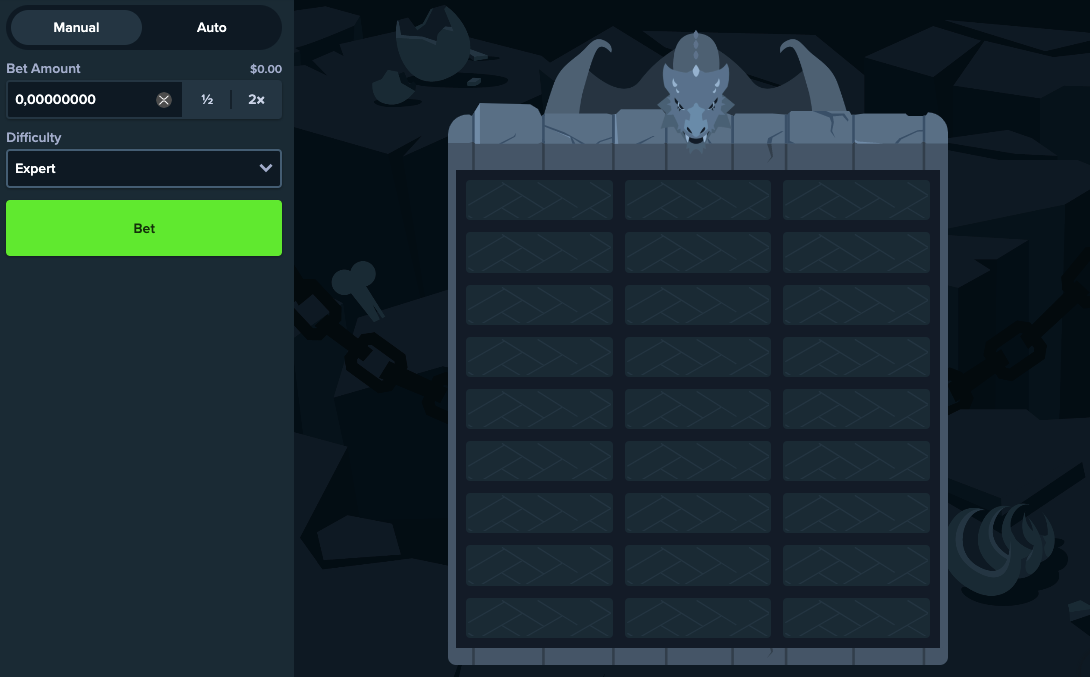 Master Level
If you're feeling really lucky, Master difficulty has four columns. Each step up the tower has three dragons and one egg. If you make it all the way to the top, the multiplier is a massive 256,901.12x your bet amount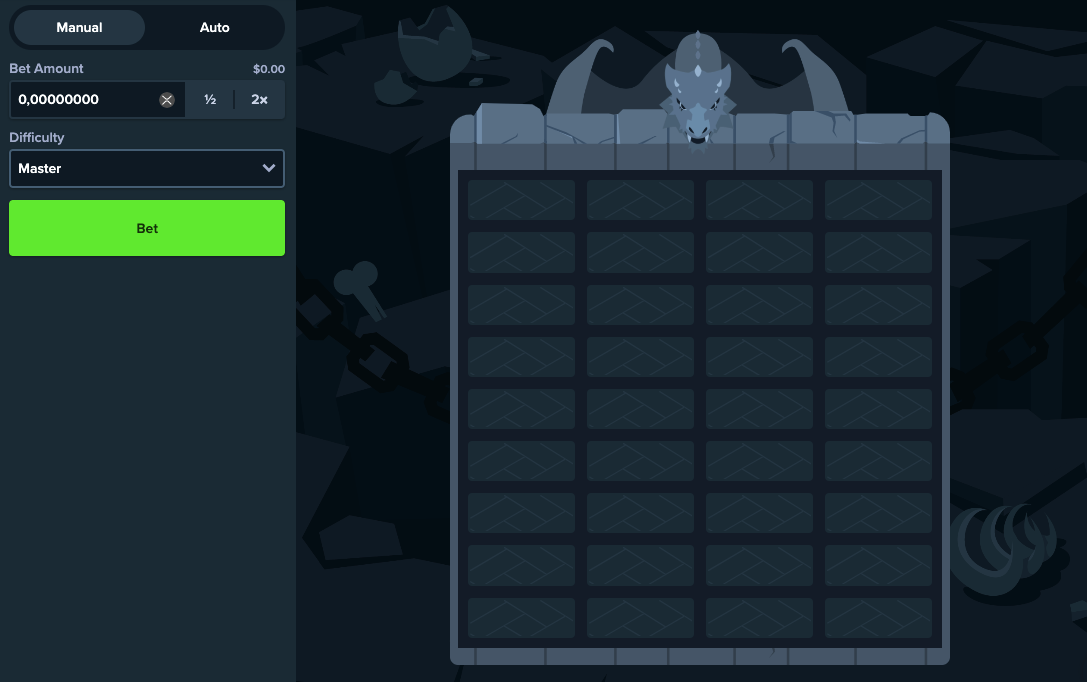 Stake.us Dragon Tower Payouts
The table below provides a full breakdown of all the multipliers for each level and mode of difficulty. You can use this data to prepare your Dragon Tower strategy. For instance, if you're chasing even-money payouts, you can play on Easy and go for three correct picks (2.32x) or play on Hard and try for one correct (1.96x).
| Easy | Medium | Hard | Expert | Master |
| --- | --- | --- | --- | --- |
| 13.05x | 37.67x | 501.76x | 19,289.34x | 256,901.12x |
| 9.79x | 25.11x | 250.88x | 6,429.78x | 64,225.28x |
| 7.34x | 16.74x | 125.44x | 2,143.26x | 16,056.32x |
| 5.51x | 11.16x | 62.72x | 714.42x | 4,014.08x |
| 4.13x | 7.44x | 31.36x | 238.14x | 1,003.52 |
| 3.10x | 4.96x | 15.68x | 79.38x | 250.88x |
| 2.32x | 3.31x | 7.84x | 26.46x | 62.72x |
| 1.74x | 2.21x | 3.92x | 8.82x | 15.68x |
Dragon Tower Strategy
Pay a visit to the Stake Community forum, and you'll find plenty of Dragon Tower strategies covering a range of risk levels. There are some that focus on Easy difficulty, where players pick up lots of small wins, and others that use the Expert and Master difficulties.
While fine-tuning your own Stake Dragon Tower strategy, you can start with an even-money betting system. For this, we'd use one correct pick on Hard difficulty (1.96x) or two correct picks on Medium (2.21x). From there, you can try one of the following strategies.
Martingale: This is a high-risk betting system, so you need to have plenty of coins to cover long-losing streaks. The method is simple, double your bet amount after a loss. When you hit a win, you regain all the losses and finish in profit, so you go back to your original bet amount and start again.
Reverse Martingale: As the name implies, this Dragon Tower betting strategy works in reverse. Therefore, you double your bet amount after a win. The theory is to capitalize on hot streaks. However, don't get overly greedy. You must cash out after two or three consecutive wins.
Cancellation System: With this strategy, you need to determine how many coins you want to win before you play, then write down a string of numbers that total the same number. For instance, if you want to win 10 coins, you may write down 1-1-1-1-1-1-1-1-1-1. Your bet amount is the collective sum of the left and rightmost digits. If you win, you can cancel those numbers. If you lose, you add the bet amount to the right side of the number string. Once all the numbers are canceled, you've won your desired number of coins.
Free Dragon Tower with Stake.us Free Coins
No purchase is necessary to play at Stake.us social casino, so you can enjoy free Dragon Tower all the time.
To kick-start your adventure, sign-up for a new player account using the
Stake.us code NEWBONUS
. This gets you 25 Stake Cash and 250,000 gold coins as soon as you have verified your identity.
Following that, the daily login bonus is worth a further 1 Stake Cash and 10,000 gold coins. In addition, Stake.us offers daily races, weekly prize draws, multiplier drops, social media contests, and other promotions from which more free coins can be earned and won.
Our
Stake.us social casino review
is the ultimate guide to this platform. Here, you can learn about the other Stake Originals, slots, and live dealer games. It also explains how to redeem SC for crypto prizes like Bitcoin and XRP.
Stake.us Dragon Tower Guide - FAQs
How to play Dragon Tower?
Dragon Tower is an easy game to learn and play. All you need to do is select your bet amount and the difficulty level. From there, you pick one of the stones/steps to start climbing up the tower and collecting eggs. With each correct guess, the multiplier increases. You can cash-out at any time to bank your winnings.
What is the RTP of Dragon Tower?
The published RTP is 98.0%. Although this is higher than most video slots, it's a little lower than Stake.us Crash and blackjack, which are 99.0%.
What is the best Dragon Tower strategy?
No strategy is guaranteed to win all the time, so before deciding which one to try, you want to ensure that you have enough coins. For instance, Martingale is easy to use, but it is high-risk and you need a large bankroll to cover your losses. We wouldn't recommend this Dragon Tower strategy if you only have a small number of coins to play with.