Stake.us Mines Guide 2023 - Play with Free Stake Cash
Based on the classic Minesweeper game, Stake Originals Mines is a thrilling and potentially very rewarding game
As a Stake Original, Mines is provably fair, allowing players to verify their results
Learn how to play Stake.us Mines and check out the best strategies
Get 25 free Stake Cash and 250,000 gold coins to play Mines
What is Stake.us Mines?

How to Play Stake.us Mines

Stake.us Mines Strategy

Play Free Mines at Stake.us

Stake.us Mines Guide - FAQs
Mines is a simple yet immersive game that is guaranteed to deliver excitement and nail-biting action. Do you have the courage to sweep the minefield to collect some massive win multipliers?
What is Stake.us Mines?
I will start by saying that Mines is my outright favorite Stake Originals game, and it makes a strong case for being my favorite Stake.us game, full stop.
Like other Stake Originals, such as
Limbo
and
Crash
, Mines is easy to learn and play. The objective is simple - avoid the bombs and find the diamonds; then, watch the win multiplier grow with each guess.
After making your first correct guess, you can cash out or continue guessing, with the multiplier increasing with each (correct) pick.
How to Play Stake.us Mines
Learning to play Mines only takes a few seconds. The game is presented on a 5 by 5 grid with 25 squares, which are filled with bombs (mines) and diamonds.
Before playing, you want to select the number of mines that will be active. You can choose any number (of mines) from 1 to 24. Of course, the number of active mines directly correlates to the win multipliers.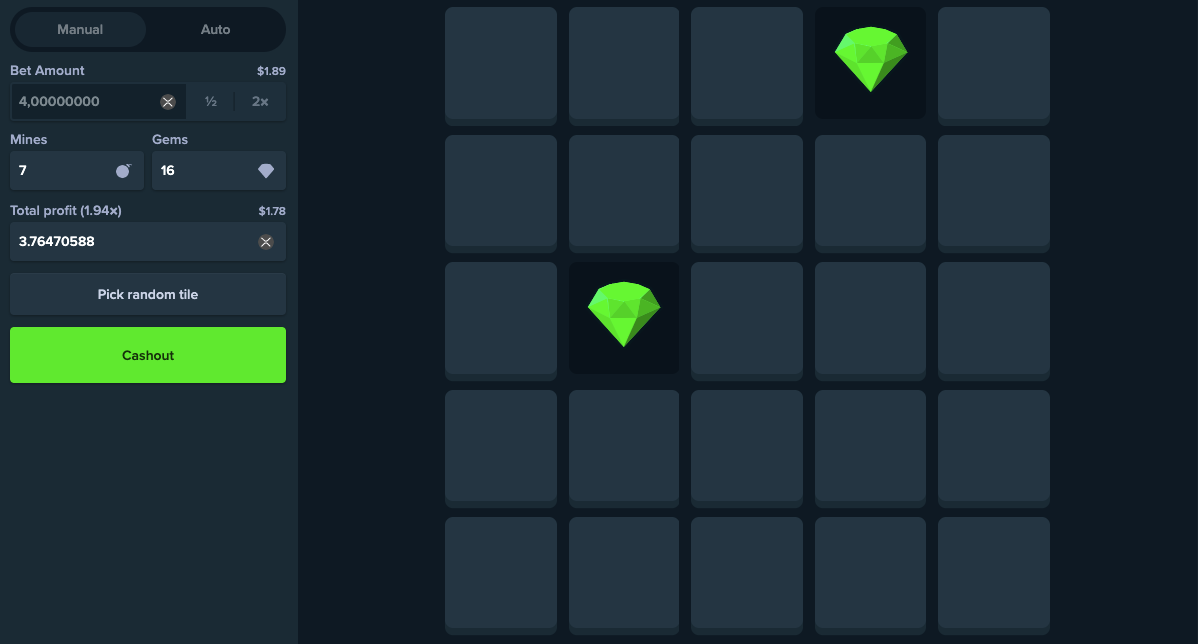 For example, if you choose only 1 mine, meaning there are 24 diamonds, the multiplier for picking a diamond on your first go is 1.01x, whereas if you play with 15 mines (and 10 diamonds), the win multiplier is 2.47x if you pick right on your first try.
After setting the number of mines you want on the game board, you can enter your bet amount and play the game. When you've made a pick, if it's a diamond, you can cashout or continue by selecting another square.
Mines Autoplay Functionality
Instead of playing manually, Mines has an autoplay functionality. To activate this, swipe the toggle at the top-left from Manual to Auto. From there, you must input:
Bet Amount: How much you want to wager
Mines: Select the number of mines (1 to 24) that you want on the game board
Number of Bets: How many rounds that you want to play
On Win: There are two options: Reset (back to your original bet) or increase (%). If you choose to increase, then you must type in the amount.
On Loss: The same applies here. You can either choose rest or increase.
Stop Profit: Stop autoplay if you hit X amount of coins profit
Stop Loss: Stop autoplay if you hit X amount of coins loss
Finally, you must select how many picks you want each round. For instance, I've chosen two. After that, the bet will be cashed out as a win.
Although autoplay is great for Mines strategy players, the squares that you select are the same all the time. When I play, I like to vary my picks, so I don't overly use this function.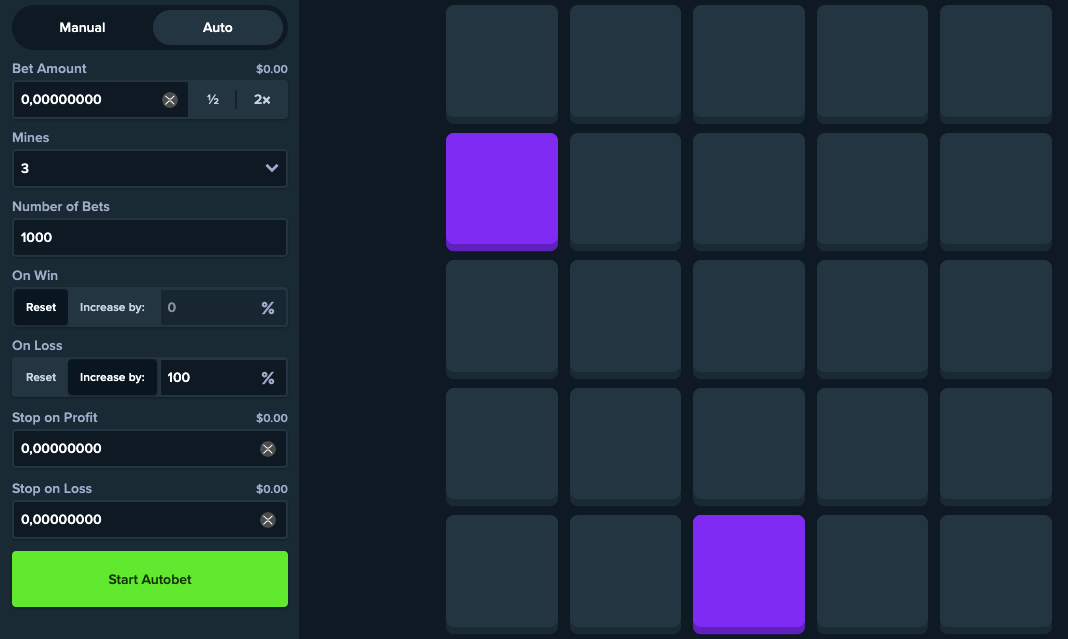 Stake.us Mines Strategy
There are several Mines strategies that you can use depending on how much risk you want to carry. If you want low risk, you should choose a small number of mines and cash out after collecting a few diamonds.
At the other end of the spectrum, high-risk strategies involve choosing more mines and trying to find a larger number of diamonds. Below is a table with the minimum and maximum multiplier payouts for all possible numbers of mines. As you can see, the smallest payout is 1.01x, while the largest is over 5,000,000x
| Number of Mines | Minimum Win Multiplier (x) | Maximum Win Multiplier (x) |
| --- | --- | --- |
| 1 | 1.01 | 24.75 |
| 2 | 1.08 | 297.00 |
| 3 | 1.12 | 2277.00 |
| 4 | 1.18 | 12,523.00 |
| 5 | 1.24 | 52,598.00 |
| 6 | 1.30 | 175,329.00 |
| 7 | 1.37 | 475,893.00 |
| 8 | 1.46 | 1,070,759.00 |
| 9 | 1.55 | 2,022,545.00 |
| 10 | 1.65 | 3,236,072.00 |
| 11 | 1.77 | 4,412,826.00 |
| 12 | 1.90 | 5,148,297.00 |
| 13 | 2.06 | 5,148,297.00 |
| 14 | 2.25 | 4,412,826.00 |
| 15 | 2.47 | 3,236,072.00 |
| 16 | 2.75 | 2,022,545.00 |
| 17 | 3.09 | 1,070,759.00 |
| 18 | 3.54 | 475,893.00 |
| 19 | 4.12 | 175,329.00 |
| 20 | 4.95 | 52,598.00 |
| 21 | 6.19 | 12,523.00 |
| 22 | 8.25 | 2277.00 |
| 23 | 12.37 | 297.00 |
| 24 | 24.74 | 24.75 |
Play Free Mines at Stake.us
As a registration welcome bonus, new players can take advantage of our
Stake.us code
NEWBONUS
to claim 250,000 gold coins and 25 free Stake Cash. No deposit is necessary to get this bonus, and it's possible to win real prizes via promotional games played with your Stake Cash.
Following that, Stake.us offers 1 Stake Cash (sweepstakes coin) and 10,000 gold coins as a daily login bonus. Moreover, there are daily leaderboard races, weekly giveaways, multiplier drops, challenges, slots tournaments, and postal requests, which all combine as other methods for players to collect free no deposit coins.
Stake.us Mines Guide - FAQs
What is the maximum multiplier on Stake Mines?
The highest win multiplier is a massive 5,148,297x. This is won by using 12 or 13 mines and finding all of the diamonds. The large multiplier tells you how difficult this is to win, but you have nothing to lose when playing with free coins.
What is the house edge of Mines?
The house edge is 1.00%. However, this doesn't tell the whole story. You must avoid the low number of mines and early cash outs to meet the 99% payout mark.
Can I win real money playing Stake.us Mines?
If you play Mines in promotional sweepstakes mode with Stake Cash (SC), you stand a chance of winning real money. Although before you can redeem any coins, all SC must be wagered 3x. When making a redemption, Stake only pays out in crypto and gift cards. Therefore, if you want real money, you must sell the cryptocurrency once you receive it.
What is the best Stake Mines strategy?
It depends on how much risk you're willing to take. My personal favorite strategy is to play with 13 mines and go for one diamond, which pays out 2.06x. I then use Martingale or delayed Martingale when on a losing streak.