Stake.us Social Casino Challenges - Players Guide
Stake.us Social Casino Challenges are one of the regular promotions for players
Play and win free Stake Cash and gold coins.
Follow this guide to participate in the latest challenges
Redeem our Stake.us promo code to claim your registration bonus
Win Big Prizes with Stake.us Social Casino Challenges

How to Enter Stake.us Casino Challenges

Choosing the Right Challenges

Stake.us Social Sweepstakes Casino Promo Code
Are you ready for a challenge? At Stake.us, there are daily social casino challenges with massive prizes. No purchase is required to play at Stake.us or to enter these casino challenges.
Win Big Prizes with Stake.us Social Casino Challenges
Part of the success of
Stake.us
comes from its abundance of promotions. It has a plethora of different offers, ranging from leaderboard races to slot battles. However, one of the most popular promos is the Stake.us Social Casino Challenges.
These challenges are a good way to collect free coins while enjoying your favorite games. You can win Stake Cash or gold coins, depending on the offer. Moreover, some challenges have larger prize pools than others. As such, you want to play smart and choose the ones with the best value.
How to Enter Stake.us Casino Challenges
Getting involved in the casino challenges is easy. Follow these steps to begin your adventure:
Log into your Stake.us account. If you do not have an account yet, click here to sign up.
From the main menu, select 'Challenges'.
Scroll through the available challenges until you find one you like.
Click on the game. It will load instantly, and you can start playing.
Choosing the Right Challenges
The Stake.us Social Casino Challenges are set by the casino's admin/support staff. There are always eight to ten challenges available. When a player wins one, it is instantly removed.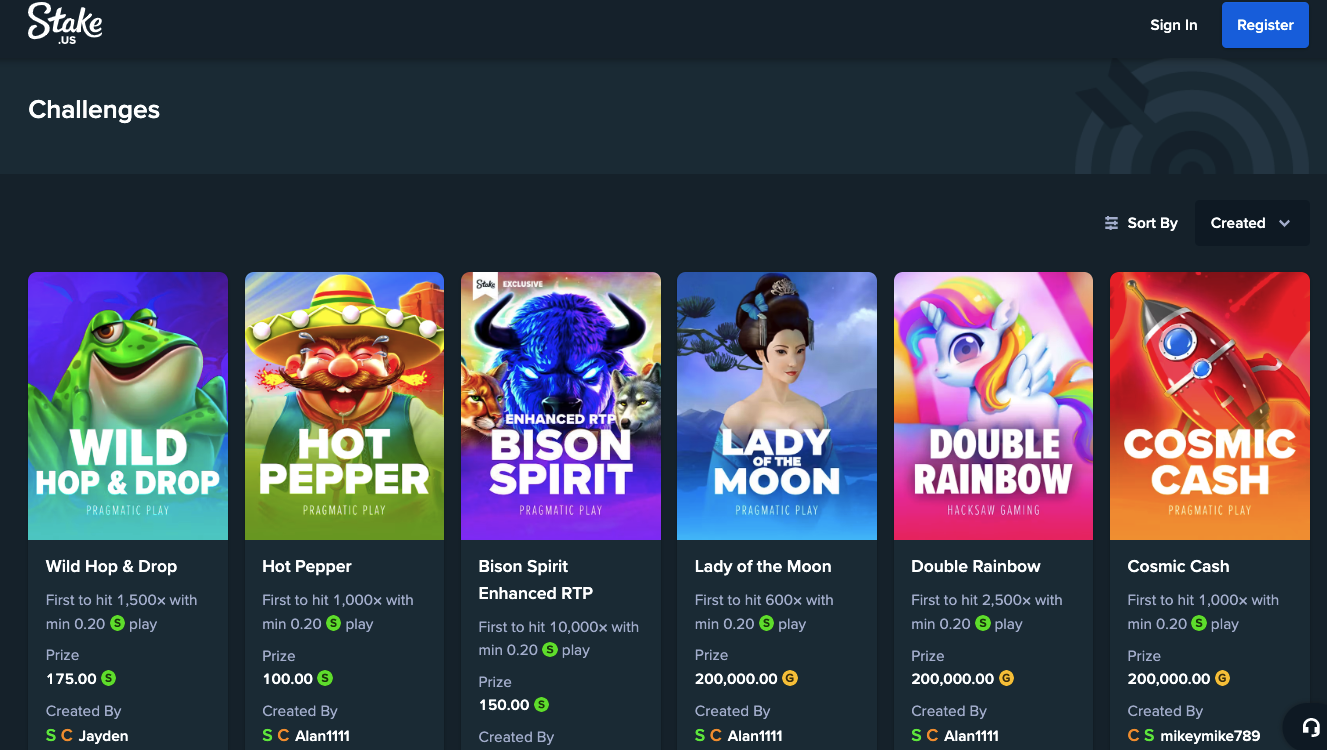 The first thing to note is that the green circle with an 'S' represents Stake Cash. The gold circle with a 'G' is for gold coins. As you can see from the Stake.us Challenges in the image, with some events, you gamble with Stake Cash but win gold coins. With gold coins having no real-world value, our advice is to ignore these challenges.
With those eliminated, you should then group the challenges by their prize values. After that, you need to assess the required multiplier for each challenge; for example:
Octobeer Fortunes: first to hit 1,000x
Dork Unit: first to hit 8,000x
Glorious Rome: first to hit 750x
At first glance, the Glorious Rome slot challenge looks like the best value. However, a pro tip is to check the max win for these slots.
Octobeer Fortunes: max win 4,500x
Dork Unit: max win 10,000x
Glorious Rome: max win 1,000x
Based on this information, it is theoretically easier to hit a 1,000x multiplier on Octobeer Fortunes than the other two slots. This is because the max win is 4,500x.
Stake.us Social Sweepstakes Casino Promo Code
Our
Stake.us review
showcases why this website is regarded as one of the
best social casinos
in America. It has 400+ games, including slots and live dealer tables. Moreover, there are many different ways to collect free coins, so you can play for longer.
The
Stake.us promo code
is the best way to start with this casino. When you register and verify a new player account with the code
NEWBONUS
, you can claim 25 Stake Cash and 250,000 gold coins.
To add some context, if you register without a code, you get the standard login bonus, which is 1 Stake Cash and 10,000 gold coins. That's why it makes sense to play through
AmericanCasinos.com
.