Best Scratch Cards at Stake.us Casino in 2023
Stake.us has a collection of 10 online scratch cards that you can play with gold coins and Stake Cash
All of the scratchers are provided by the highly-reputable Hacksaw Gaming
Review our complete list of the best Stake.us scratch cards to find your favorite
Play Stake scratchers with our 25 free Stake Cash welcome bonus

Stake.us's Best Scratch Cards for 2023

How to Play Free Stake.us Scratch Cards

Play Free Stake.us Scratch Cards with 25 Stake Cash

Best Stake.us Scratch Cards - FAQs
Players searching for fun, easy-to-play, instant-win games need look no further than Stake.us's collection of scratch cards. You can play these games for free using gold coins and Stake Cash, with the latter offering promotional play and a chance of redeeming real cash prizes.
Stake.us's Best Scratch Cards for 2023
From convenience stores to gas stations, scratch cards are all around us. Now, you can play them for free at
Stake.us
. No skill or strategy is required to enjoy these games. All you need is a little luck, and you could be the next big winner. If you fancy getting in on the action, these are our top picks for you to try.
Scratch a Million
Starting with the big one, Scratch a Million at Stake.us offers players the chance to win 1 million Stake Cash (or gold coins). Only one ticket carries the top prize; however, many smaller payouts exist.
To win, you must match three numbers of the same value. The chances of winning a prize (of any value) are 50.29%, and the overall RTP is 92%. This is considerably lower than most video slots, but the max win potential is far greater.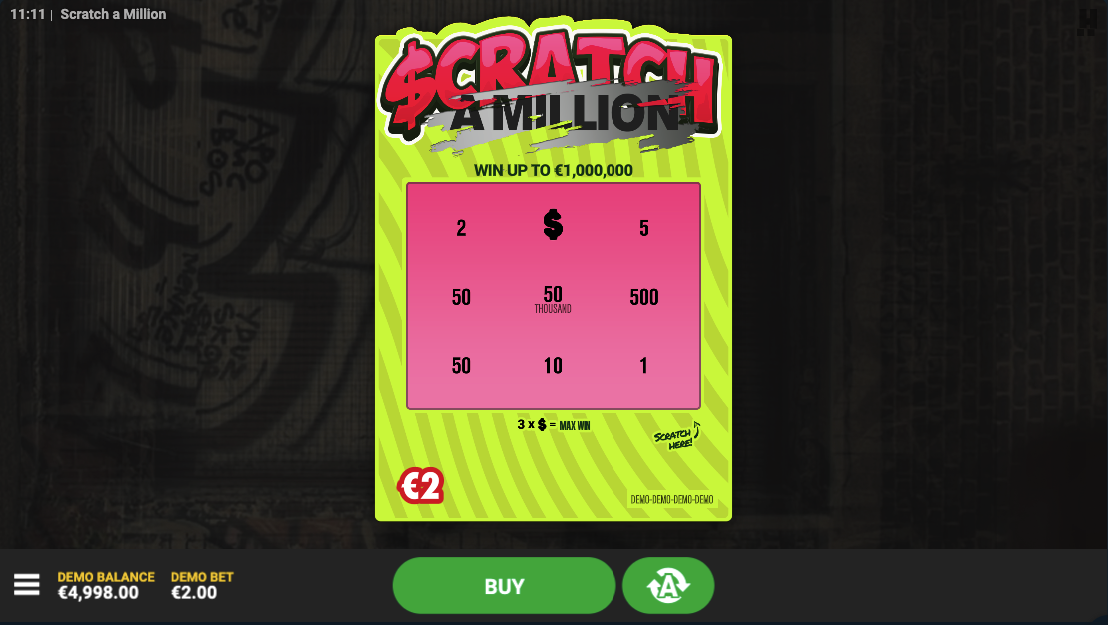 Chaos Crew
The Chaos Crew scratch card has a top prize of 10,000 SC/GC, with two winning tickets available in the game. Players must scratch off the nine covered segments to reveal their prize.
You win if you match three identical values. There is a scratch all button for quick play, or you can go around the card with the manual eraser, which builds the excitement, in our opinion. The RTP is once again 92%; however, the chance of winning a prize is just over 60%.
Summer Scratch
With a beach vibe and summer theme, this Hacksaw Gaming creation is one of the favorite Stake.us scratch cards. It's another match-three game with the option to use the quick-play scratch all button or the manual eraser.
The top prize on Summer Scratch is 200,000 SC/GC, which puts it on par with the
best free slots at Stake.us
. Once more, the RTP is 92%, so it will drain your coin balance the longer you play. However, the generous max win potential makes it worth playing from time to time.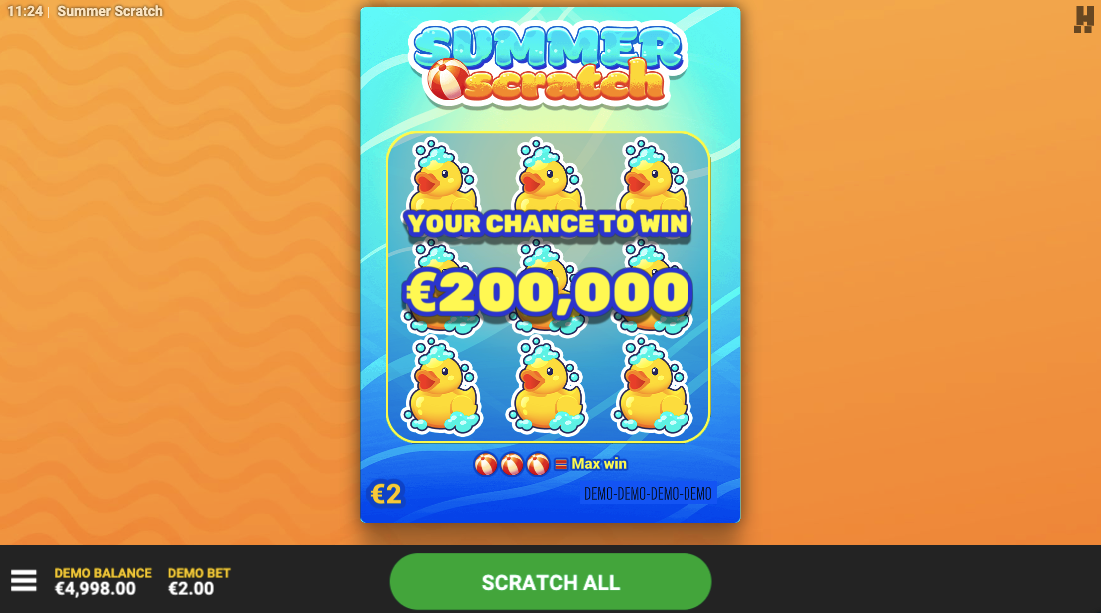 Stack 'Em Scratch
Before Hacksaw Gaming developed online slots, it was solely focused on creating scratchers. One of its most popular games, which has since spawned its own video slot, is Stack 'Em scratch.
Two tickets offer the top prize of 10,000 SC/GC, which is won by matching three hat symbols on the same ticket. Akin to Chaos Crew, the chances of winning a prize are 60.12%, and the overall RTP is 92%, which is the same as the other free Stake.us scratch cards.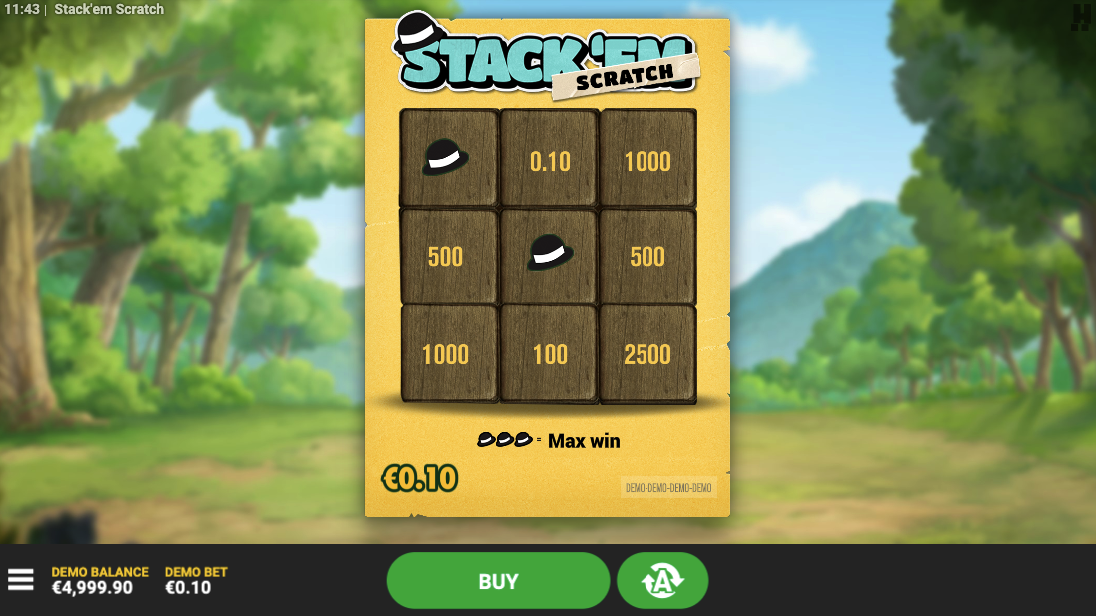 Scratch! Platinum
With a 500,000-coin max win, Scratch! Platinum is second only to Scratch a Million on the top prize list.
Players must scratch the nine stars to reveal if they've won a prize. Only one ticket boasts the 500,000 coin jackpot. However, there are many smaller payouts.
Where Scratch! Platinum stands out is the chance of winning any prize is 76.67%, which is much higher than most of the other free scratch cards at Stake.us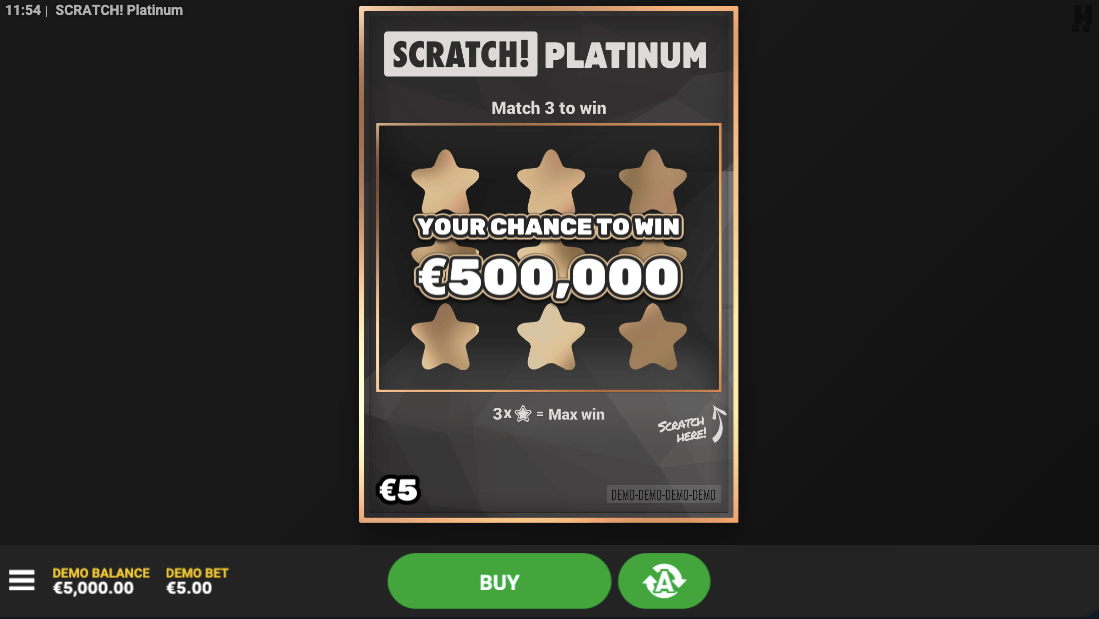 How to Play Free Stake.us Scratch Cards
Stake.us is a social sweepstakes casino. This means that no purchase is required to play here. It offers two modes of play - fun (social) and promotional sweepstakes. When playing for fun, you use gold coins, while promotional sweepstakes require free Stake Cash. The benefit of playing with Stake Cash is that your winnings are redeemable.

Scratch cards are very easy to play; however, if this is your first online experience, follow these steps to get started.
Register and verify your account: Sign up and complete the verification process. You'll then be able to claim our exclusive welcome bonus (see below) and your daily login bonus, which is worth 10,000 GC and 1 Stake Cash.
Select which currency to use: At the top of the screen, you can flick between gold coins (play for fun) and Stake Cash (promotional sweepstakes). Select the one you want to use.
Choose your Scratch Card: From the menu, select Scratch Cards and then click on the free scratch game that you want to play.
Buy: Use the Buy button to purchase your card.
Play: Next, you can either hit the Scratch All button or move around the virtual scratch card with a type of eraser and do it yourself.
Winnings: If you win a prize, the coins are automatically credited to your balance.
Play Free Stake.us Scratch Cards with 25 Stake Cash
The appeal of scratch cards is that they are easy to play, quick, and the max win potential is incredible.

If these games suit your taste, you can enjoy them with 25 Stake Cash when you register an account with our exclusive
Stake.us code
NEWBONUS
.
Added to this, new players are immediately eligible for the daily login bonus of 1 Stake Cash and 10 gold coins. There are many other ways to accumulate free coins at Stake.us, so you can play online scratchers every day without ever having to make a deposit.
Best Stake.us Scratch Cards - FAQs
What Stake.us scratch cards has the largest jackpot?
The Stake.us scratch card with the largest jackpot is Scratch a Million. This offers a 1,000,000 coin payout to the lucky winner.
Can you win real money from Stake.us free scratch cards?
Indirectly, yes, it is possible to win real money from playing the free scratch cards at Stake.us. Firstly, you need to be playing with Stake Cash (sweepstakes coins). As always, all SC needs to be wagered 3x.

If you achieve this, then your remaining balance is redeemable as a crypto prize. Therefore, you can redeem your SC for Bitcoin and sell the BTC for cash later.

What other free games can I play at Stake.us?
You can play free sweepstakes slots with cash prizes, as well as blackjack, video poker, roulette, and Stake Originals. Also, Stake.us has now launched live dealer games that are proving very popular with players.