Stake.us Slide | How to Play Slide - Beginner's Guide
Slide is a popular multiplayer multiplier game with a max payout of 1,000,000x
Learn how to play Slide and discover the best strategies for regular and big wins
Try Stake Originals Slide for free with our exclusive Stake Cash and gold coins Stake.us welcome bonus
What is Stake.us Slide?

How to Play Slide at Stake.us

Stake.us Slide Strategy

Play Slide with Free Coins

Stake.us Slide Guide FAQs
With a max payout of 1,000,000x, it's easy to see why Stake.us Slide is a favorite game for many players. This guide explains how to play Slide and what the best strategies are.
What is Stake.us Slide?
Anyone familiar with the layout of CSGO Roulette will instantly recognize
Stake.us
Slide. However, while Slide's origins may stem from this variant of Roulette, this game offers payouts ranging from 1.01x up to 1,000,000x, so it's very different.
Stake.us Limbo
is another 1,000,000x multiplier game, so Slide is effectively a hybrid of Limbo and CSGO Roulette. The return to player value is calculated at 98.00%, so players can expect a long-term return of 98 coins for every 100 wagered. This makes Slide a credible option for Stake.us customers who want to play a low-volatility game with the aim of wagering coins for redemptions.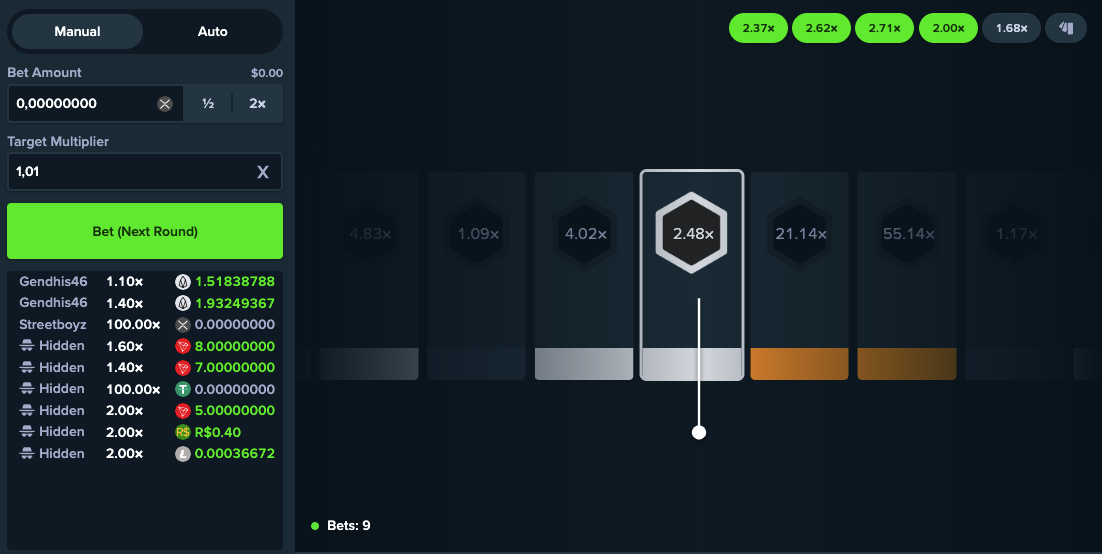 How to Play Slide at Stake.us
Slide has no complex rules or gameplay strategies for players to contend with, so you can jump in and start playing in an instant.
Quite simply, there are only two things you need to do before the game round starts:
Type in the number of coins you want to bet.
Choose your target multiplier
There is a 20-second betting window for you to place your bets and set the target multiplier, which is plenty of time. Once you've done that, click the green Bet button to play the next game round.
The slider is packed with different multipliers, and the one that stops on the center pin is the winning value for that game. If your target multiplier was lower or the same as the winning multi, you win your bet amount multiplied by your target multiplier.
For example:
You bet 10 coins
Your target multiplier is 10.00x
The winning multi is anywhere between 1.00x and 9.99x. Therefore, you lose the 10 coins
The winning multi is exactly 10.00x. Therefore, you win 100 coins
The winning multi is 1,000,000x. You still only win 100 coins because that was your initial target multiplier
Stake.us Slide Strategy
You can set the target multiplier on Slide anywhere between 1.01x and 1,000,000x, so this opens up a massive variety of betting strategies. If you want to play extremely low risk, you can bet 1.10x - 1.20x. You'll win plenty of games using this Slide strategy, but you'll get wiped out if the multi finishes on 1.09x or lower.

While it's important to acknowledge that no strategy is guaranteed to win all the time, my preferred system is to use a delayed start with Martingale, as I'll explain.
Like
Stake.us Crash
, Slide is a multiplayer game. This means that it runs continually, even when you're not betting. Furthermore, you can view the results of the last 15 rounds at the top of the screen.
It is this information I use to find my entry point. I wait for a run of 7 consecutive games with the multiplier result being lower than 2.00x. Then I bet 1 coin with a 2.00x target multiplier. If I lose, I implement Martingale, which means I double my bet amount (to 2 coins). When I win, I recoup all my losses and end up with 1 coin profit.
With the delayed start, this Slide strategy is a slow grind, but it has worked for me. Basically, if you get a long run of low multipliers, the law of averages says that higher ones will drop eventually. As mentioned, no strategy works all the time, so you need to have a play around to find out what suits your style.
Play Slide with Free Coins
No purchase is required to play Slide at Stake.us because this is a social sweepstakes casino. Instead of making real money deposits as you would at a regular online casino, players receive free coins to use at Stake.us.
To get the ball rolling, new sign-ups can claim 25 Stake Cash (worth $25) and 250,000 gold coins with our
Stake.us sweepstakes promo code
. All you have to do is register an account and redeem the promo code, and the bonus is added to your balance once your identity is verified.
Yet, the free coins don't stop there. Check out this
Stake.us casino review
to learn about the no purchase daily login bonus, as well as daily races, multiplier drops, slot battles, and many other promotions.
Stake.us Slide Guide FAQs
What is the RTP of Stake Originals Slide?
The RTP is 98.00%, which is better than most video slots. However, it's slightly lower than video poker and blackjack. However, the extensive range of target multipliers means that this can be both a low and high-volatile game, so it suits every type of player.
Is Slide the same as Stake Limbo?
Slide and Limbo are very similar. The payout options are the same (1.01x - 1,000,000x), but the layout is different.
Can I play Slide on a mobile?
Yes, Stake.us Slide is mobile-friendly. The game is available on tablets and smartphones, so you can enjoy a game on any device.
What is the best Slide strategy?
To find the best Slide strategies, we recommend visiting the Stake Community forum. Here, you will find strategies from other players. Some are better than others, but you can try them with free gold coins to find the best ones.