Stake.us Dice Guide 2023 - Play Dice with Free Coins
Dice is a simple game of chance from the Stake Originals series
Players can adjust the risk level to suit their own style of play
Learn how to play Stake.us Dice and find out what the best Dice strategies are
Play free Dice with our exclusive 25 free Stake Cash welcome bonus

What is Stake.us Dice?

How to Play Stake.us Dice

Stake.us Dice Multipliers

Dice Strategy

Play Free Dice at Stake.us

Stake.us Dice Guide - FAQs
Dice is one of the best games in the Stake Originals collection. This guide explains how to play it for free using sweepstakes and gold coins.
What is Stake.us Dice?
When you think of dice games, craps and sic bo naturally spring to mind. However, Stake.us Dice is nothing like either of those.
This game uses a virtual 100-sided dice, with players betting on the outcome being over or under a selected number. Other than the roll/outcome itself, players are in control of all other aspects of
Stake.us
Dice.
You can move the slider to dictate the base number that will be the foundation of the over/under. Alternatively, players can enter a desired win multiplier and bet from that. In addition, Stake Originals Dice has several preset strategies; plus, you can also create custom ones, which is a nice touch.
How to Play Stake.us Dice
If you've read our
Stake.us Hilo guide
or the ones on Plinko or Roulette, you'll know that Stake Originals are easy to learn and play games. Dice is no different. Players can enjoy Stake.us Dice with no experience; however, there are advanced strategies for existing players too.
For new players, here's an introduction to how to get started and a guide to the basic controls and features.
Load Stake Originals Dice
Log into your account and click on Stake Originals in the menu. Then, select Dice from the list of options.
Set the base number
When Stake.us Dice first loads, the default base number is 50.50, which offers a 2x multiplier win on the Over bet. You can move the slider in the middle of the screen to adjust the base number. The slider ranges from 2 - 98.
It's possible to be much more precise if you desire. Although this game uses a 100-sided dice, there are actually 10,000 possible outcomes as every single number is divisible by 100, meaning you can bet on anything from 1.01 to 99.99. To use a non-whole number, you need to input the multiplier and use the up/down arrow keys.

Over / Under
The setup of Stake.us Dice is for the Over bet, so the win multiplier value shown is for this wager. However, if you click The circular arrows on Roll Over, it changes to the Under bet, and the win multiplier changes.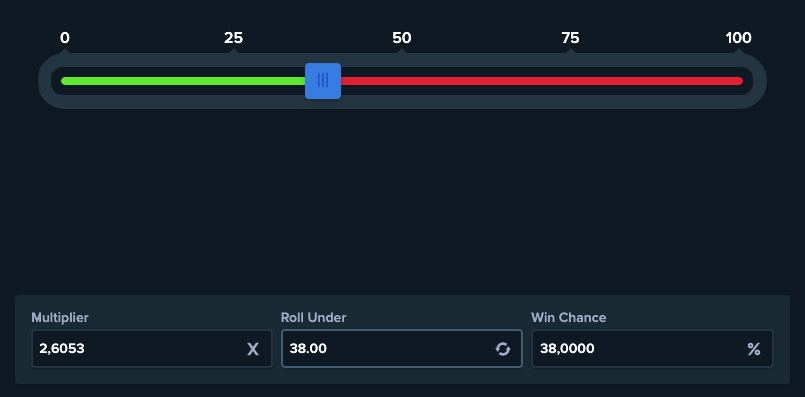 Bet Amount
With the base number and win multiplier set, you can enter your bet amount. You need to think carefully about how much to stake depending on where you've set the multiplier and the probability of winning.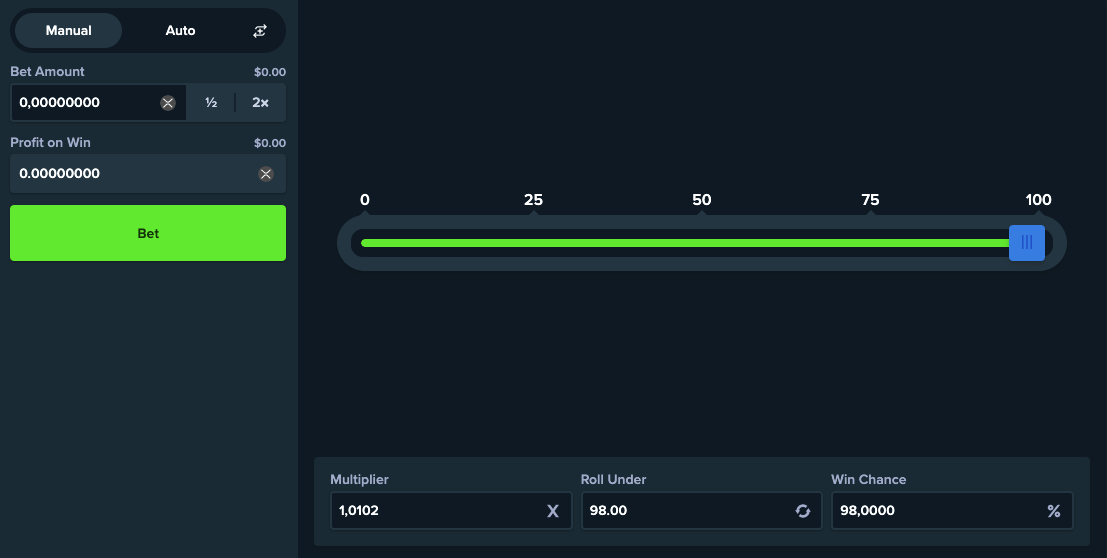 Bet
Finally, hit the Bet button to start the game. The outcome is instant, and any winnings are credited to your balance. You can now hit the Bet button again or change the settings (bet amount and dice number) before wagering.
Stake.us Dice Multipliers
Knowledge of the win multipliers and the chances of winning is an important component of Stake.us. We won't list all 10,000 possibilities; however, here are a few examples:
| Multiplier | Roll Over | Win Chance |
| --- | --- | --- |
| 1.0001x | 1 | 98.99% |
| 1.0102x | 2 | 98% |
| 1.2375x | 20 | 80% |
| 1.5231x | 35 | 65% |
| 2.00x | 50.50 | 49.50% |
| 2.8266x | 65 | 35% |
| 4.95% | 80 | 20% |
| 49.50% | 98 | 2% |
| 9,900% | 99.99 | 0.01% |
Dice Strategy
Located next to the Autobetting button, is the Advanced tab, which takes you to the Dice Strategy interface. Stake Dice has several pre-programmed strategies that you can deploy at the click of a button, including:

Martingale: Most experienced players are familiar with the Martingale betting system, which is to double your bet amount after a loss continually. Then, after hitting a win, you recover all of your losses and show a profit equal to your original wager. The mathematics are bullet-proof, but you need a large balance to cover a long series of losing bets, which is what makes Martingale considerably high-risk.
Delayed Martingale: Stake Dice offers a modification of the classic system with its Delayed Martingale strategy. With this system, the bet amount is doubled if you lose three consecutive rounds, and it resets to the original bet amount after a win. This strategy doesn't guarantee a profit after a win, but you don't need such an enormous balance to cover a string of losses.
Paroli: Often called Reverse Martingale, this Dice betting strategy increases the bet amount after a win and resets it to the original amount after a loss. The objective is to benefit from winning runs while not suffering heavy losses when luck isn't on your side.
D'Alembert: This is another simple Stake Dice strategy. First, you decide on a bet amount (e.g. 1 SC). If you lose, you add another 1 SC to the next bet. So, if you start with 1 SC and lose three consecutive bets, the stake for the 4th bet would be 4 SC. After a win, you reduce the bet amount by 1 SC. The risk level is moderate, which makes it popular with many Dice players.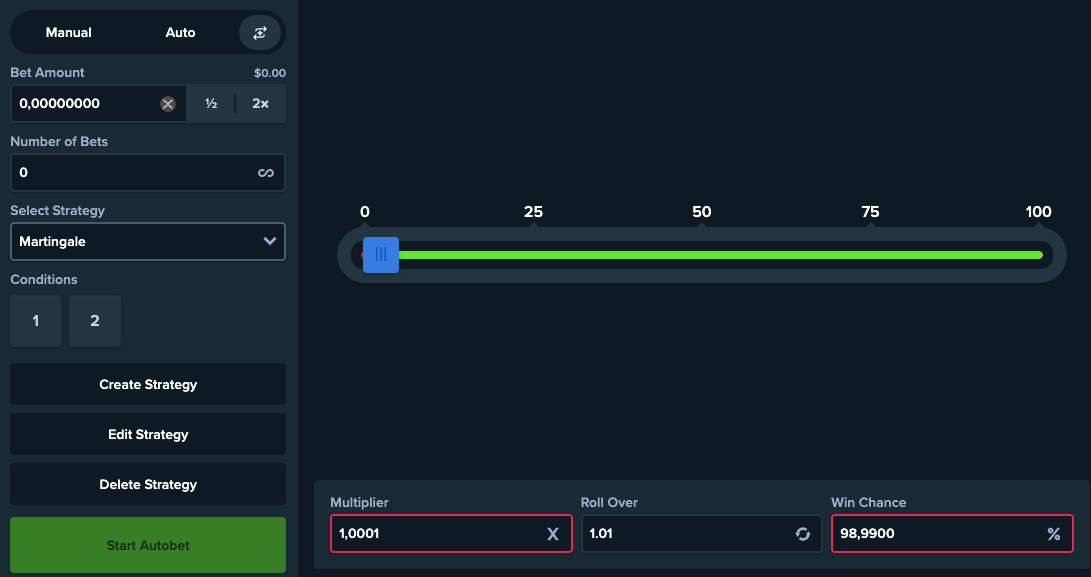 Going further and you can set custom conditions for each betting strategy, which helps to maximize their potential. Such settings include increasing/decreasing bet amounts after a specific number of wins/losses, unique actions if the first bet wins, and so on.
Also, you can create your own strategy from scratch. This is only recommended for advanced players, however. If you want more information on the best Stake.us Dice strategies, check out the community pages in the forum.
Play Free Dice at Stake.us
Stake.us players have the best of both worlds because this is a social sweepstakes casino. No purchase is necessary, as you get free coins daily.
Gold coins are for fun play. These are perfect for players who are testing new Dice strategies. There is zero risk involved, so you can refine your system to produce optimum returns.
When ready, use our
Stake.us Casino promo code
NEWBONUS
to claim a new player welcome bonus of 25 free Stake Cash upon registration. Stake Cash is for promotional play from which you can redeem cryptocurrency prizes, such as Bitcoin, Ethereum, and XRP.
This is how to play free Dice games while also having a chance at winning real prizes from your experience. And, to emphasize again, no purchase is needed.
Stake.us Dice Guide - FAQs
Where to play free dice games in the US?
Stake.us is the best place to enjoy free dice games. Its variant is provably fair, allowing players to verify the results of each game. Furthermore, it comes with multiple pre-programmed strategies for you to try.
What is the house edge of Stake.us Dice?
The RTP (return to player) is 99.0%, giving the house an edge of 1.00%. This puts Dice on par with blackjack, while providing slightly more player value than baccarat and roulette.
Can I win real money playing free Dice?
You can win crypto prizes like Bitcoin and Ethereum that can be sold for real money after redemption. However, you cannot win real money directly.
What is the best Stake.us Dice strategy?
It's hard to define the best Dice strategy because it depends on how many coins you have and the level of risk you're willing to expose yourself to. We recommend trying different strategies with gold coins to find out that works for your style of play.