How to Get Free Gold Coins at Stake.us Social Casino
What are gold coins and what can you do with them?
Complete guide to all the ways that you can get Stake.us gold coins for free
Difference between gold coins and Stake (sweepstakes) Cash
What are Stake.us Gold Coins?

Gold Coins vs Stake Cash - What's the Difference?

Stake.us Free Gold Coins - How to Get Them

Free Stake.us Gold Coins - FAQs
Play 430+ amazing video slots and other top-rated Vegas-style casino games with free Stake.us gold coins. This article explains the different ways you can collect them.
What are Stake.us Gold Coins?
For those new to
Stake.us social casino
; it uses two types of on-site currencies. One of which is gold coins, with the other being Stake Cash. We'll explain the difference further down this page; however, for the moment, let's focus on what are gold coins?
You can think of gold coins as a fun currency that is used for entertainment purposes only. It cannot be transferred away from Stake.us and has no real-world value.
The concept of a social casino like Stake.us is to play games and enter leaderboard contests with friends without risking any money, and gold coins are the on-platform currency (site credits) players use to do this.
Gold Coins vs Stake Cash - What's the Difference?
You may be wondering why does Stake.us need two different coins? The reason is simple. Essentially, Stake.us is two casinos rolled into one. Although they share the same games, you can play them in two different modes, which is the purpose of having two coins.
Gold Coins: For fun and entertainment only. They hold no value other than playing games at Stake.us. You can get gold coins for free or purchase them.
Stake (sweepstakes) Cash: For promotional sweepstakes. Winnings from promotional sweepstakes may be redeemed for crypto prizes, gift cards, and merchandise. You cannot buy Stake Cash. Instead, you get it for free via bonuses, promotions, postcard requests, and as a gift when purchasing gold coins.
Stake.us Free Gold Coins - How to Get Them
Free coins are the beating heart of
US social casinos
. Here are the different ways that you can earn and collect them.
Registering with Stake.us
With our
Stake USA promo code
, you can pick up 25 free Stake Cash and 250,000 gold coins once their accounts are registered and verified. You can use these coins to explore the social casino for the first time and play slots, table games, video poker, and visit the live dealer tables.
Login Bonuses
To keep players returning regularly, Stake.us provides a daily login bonus. The first time you log into your account on a new calendar day, you can claim 1 Stake Cash and 10,000 gold coins for free.
Stake doesn't impose rules on using all previous coins before you can claim more, so it's possible to accumulate them. Therefore, even if you don't have time to play, it is still worth a few seconds to log in and claim your coins for that day.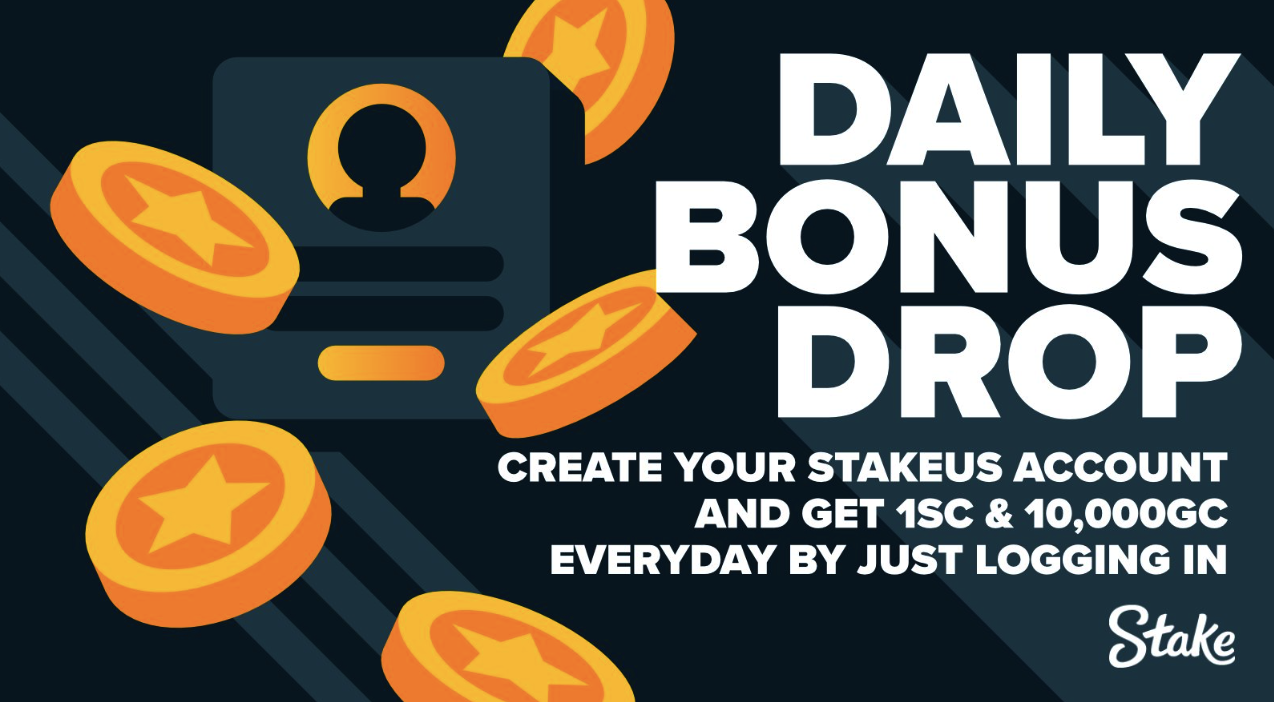 Daily Races
Stake.us has several on-site promotions with free gold coins up for grabs. One of the most popular is the Daily Race. This is a straightforward leaderboard competition with a total prize pool of 50,000,000 gold coins that are shared among the top 100 players on the leaderboard.
You join the day's race automatically when you make your first bet. The more you wager, the higher you climb up the leaderboard. Wins and losses on games do not affect your position; it's based solely on the collective amount you bet throughout the day.
Challenges
Another regular promotion is Challenges. You'll discover different challenges every day, which keeps things fresh and interesting. These are played on different games, and the first player to hit the target multiplier wins the pot, which can be millions of free gold coins.
A point of note, however, is that some challenges require players to use Stake Cash to win gold coins, so you need to keep an eye open for this.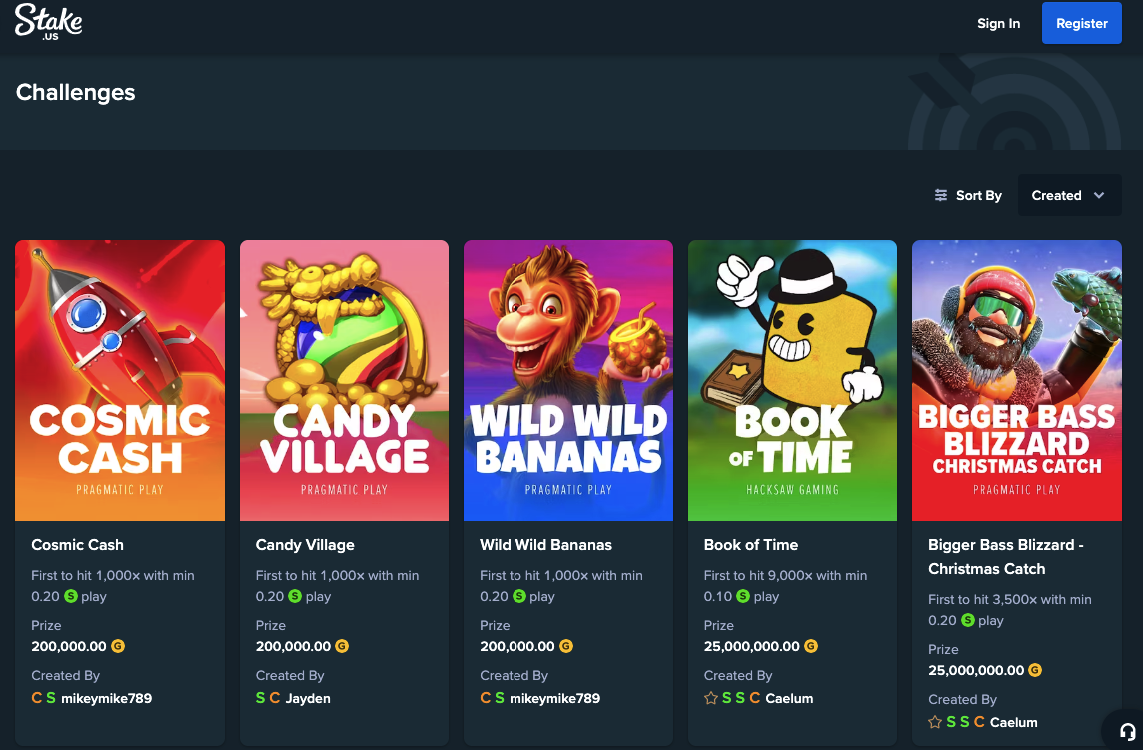 Social Media Promotions
Stake.us is active on social media. Every day, it has a bonus drop where players can win free Stake Cash and gold coins. There is an entry requirement for these Stake.us bonus drops, which is typically 3,000 SC played within the last seven days. If you qualify, the first 1,000 players who redeem the code provided get 5 SC and 50,000 free gold coins.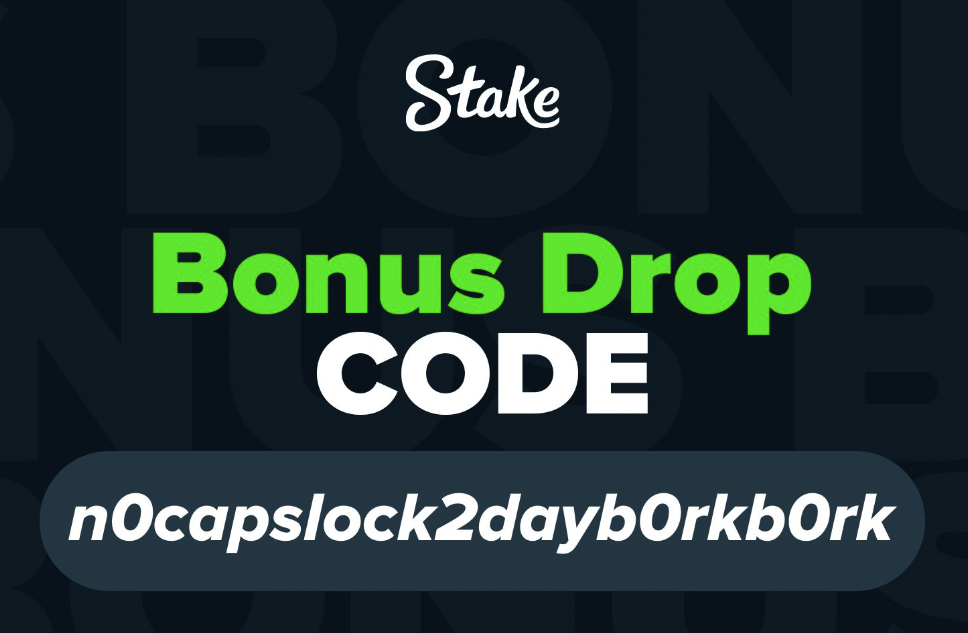 Free Stake.us Gold Coins - FAQs
Can you redeem Stake.us gold coins?
No, gold coins are non-redeemable. They can only be used on the platform to play games for fun.
Can you swap gold coins for Stake Cash?
No, players cannot swap or transfer gold coins in return for Stake Cash. These two currencies are used independently and are not interchangeable.
Where do you get free Stake USA gold coins?
Players can pick up free gold coins from registration bonuses, login bonuses, leaderboard races, daily challenges, and social media.