Nevada gambler starts New Year with $888k win on penny slot
Laurence Fuller won over $888,585.03 on a $1.80 bet. The lucky Nevada gambler went on to win five more times at Atlantis in Reno!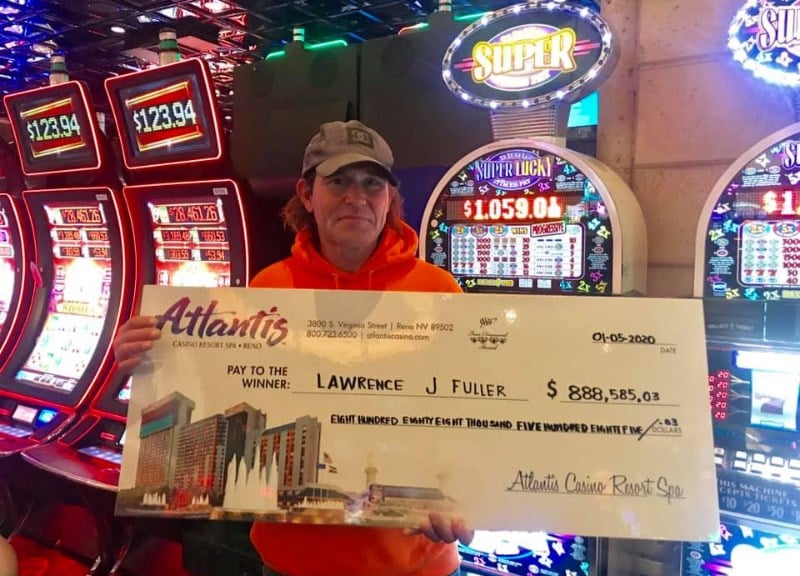 A Nevada gambler has won over $888,000 on a $1.80 bet at Atlantis Casino Resort. Local Reno man Laurence Fuller was playing penny slots when he hit the life-changing win.
Mr Fuller was playing casino games on January 5th when his lucky stars aligned and he triggered the jackpot. His total winnings from the $1.80 spin were $888,585.03.
Posting on their Facebook page, Atlantis Casino Resort Spa congratulated the lucky gambler. In the same post, the casino included a picture of the winner, who is seen holding a massive check complete with the total prize.
The full Facebook post text is as follows:
8 was the lucky number for this local Reno resident who won a jackpot of over $888,000 today on a bet of $1.80 on a penny slot machine. Amazingly, he went on to win 5 more slot machine jackpots today in addition to this one! He calls his win "life changing" and says he plans to save his money in the bank until he decides what to do with it. Talk about a lucky guy! 💵💰🎉
Unfortunately, the casino did not mention what slot he was playing when the big win took place. Laurence is framed in front of the Super Lucky slot machine - but the jackpot is of a different amount.
Mr Fuller was quoted saying it was a "life-changing" amount of money. He plans to save his winnings in the interim. Congratulations to the lucky winner!
Nevada Slot Jackpot Wins
Winner stories are commonplace in the gambling capital of the world. Here are the most recent wins to come out of Nevada:
For more jackpot winners as and when they happen, subscribe to our newsletter or follow us on Twitter.