Live Dealer
NJ Live Dealer Casino games streamed direct from Atlantic City; all the glamour and excitement of a top-class gaming destination without you even having to leave your home.
Live Dealer Games at New Jersey Online Casinos
Latest Live Dealer News
Best NJ Online Live Dealer Casinos
0

BetMGM Casino: Must use BETMGM bonus code NEWWORLD1. New customers only. 21+ T&Cs and wagering requirements apply.
1

bet365 Casino NJ: New Casino customers only. Deposit/transfer min. $20. Applies to first deposit to Casino only. Max. bonus $200. 15x wagering (game weighting applies) on deposit and bonus to make the bonus balance withdrawable. Time limits and T&Cs apply.
2

Borgata Casino: New customers only. 21+ T&Cs and wagering requirements apply.
3

Party Casino NJ: New customers only. 21+ T&Cs and wagering requirements apply.
4

Unibet Casino NJ: FREE CASH PLUS DEPOSIT MATCH. Use the promo code UBCASINO10 when you register to get $10 free play. Get $500 deposit match using promo code UBCASINO500. T&Cs apply. Over 21s. NJ residents only.
NJ Live Dealer Casino: The next big thing in New Jersey
Live dealer casino is a relatively new concept in the Garden State. Before 2018, only two of the states 18 online casinos offered players any sort of live experience. But that has all changed. In 2018, Borgata finally added live dealer casino games, breaking Golden Nugget's monopoly. This kick-started a revolution in the state, as other casinos scrambled to offer some kind of live service.
In the same year, market leading live games provider Evolution broke into the North American casino market. And gambling sites were quick to buddy up with one of the world's most established live providers. 888 Casino, SugarHouse and Hard Rock all partnered with Evolution as soon as they touched down in NJ. And that's not all; more NJ live dealer casinos are expected in the next couple of months.
After a slow start, live dealer games are starting to build momentum in the state. While they may never reach the fever pitch popularity of
NJ online slots
, they are sure to entertain classic casino gamers.
NJ Live Dealer Blackjack
Blackjack works really well online with both virtual and live hosted games attracting millions of players. It's most enjoyable when played with a live dealer though, as that way you can enjoy a true casino floor feel and bet alongside other players.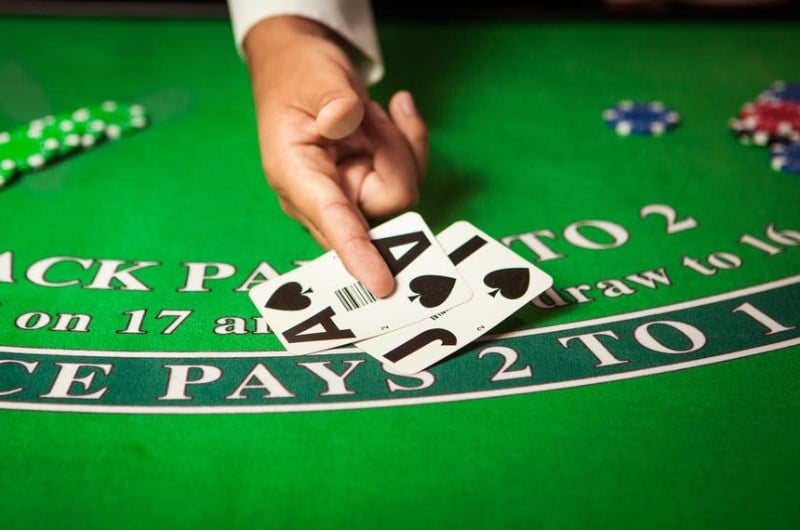 You can choose to play with just yourself against the dealer or step up and take a seat at a table with up to 6 other players just as you would in a real land casino. Once the table opens you can make a bet within the staking limits specified on the icon you clicked to enter the room, and when it's your turn the dealer will give you two cards each, all upturned bar one dealer card.

Live play comes in two varieties: You can play using a format that simply involves just you and the dealer. Any number of players can join in from other locations, but you won't see what's happening to them – just what's going on in your own game.
More realistic, though, are the multiplayer games that use allocated seating. With this format you'll take a seat in front of the dealer just as you would in a real casino – and indeed the casino studio used will look just like the Real Thing. You'll take one of seven seats, and if they're all full up you'll need to find another table – though this rarely turns out to be an issue as the operators that stream Live Blackjack are highly adept at making sure there's enough space for everyone at all times.
How to play Live Dealer Blackjack at NJ Online Casinos
The basic premise is simple: You place a bet before any cards are dealt. You're then dealt a hand (consisting of two cards face up), whilst the dealer gets one card face up and one face down. Your aim is to get closer to 21 than the dealer without going bust (exceeding 21).

In order to reach your objective, you have two options during a hand: If you've got as close to beating the dealer without exceeding 21 as you think you're going to get, then you can choose to stand; otherwise you can hit, which means you'll be dealt another card.
Once you've stopped accepting cards to add to your hand it's the dealer's turn to flip over their face-down card. At this point they have strict rules to adhere to which vary by game type, though usually they're made to keep hitting until they reach 17 or more.
On top of this you'll find that at certain points in the game you're able to "double down" or "split". Each of these options requires you to match your initial bet to receive another card from the deck.
You may Double Down if you have a starting total of 11 or less, then you can match your initial bet and receive one more card. The aim of this move is to get more money onto the table when you're in an advantageous position.
You can split if you're dealt two cards of the same value you can split them by matching your opening wager. For example, if you are dealt a pair of tens, you can turn them into two separate hands and continue battling the dealer as before.
There is one other option available after the initial set of cards have been dealt, and that's insurance. If the dealer's upturned card is an ace, you can make a side bet which pays out 2 to 1 if the dealer turns out to have a Blackjack (i.e, an ace and a picture card). The reason behind the name 'insurance' then becomes clear: The dealer is in a great position to win the main element of the game, so an insurance bet will balance up your loss. Read about live blackjack rules here.
Live Blackjack Variations
Blackjack comes in all sorts of shapes and sizes: In Double Exposure Blackjack the first two cards received by the dealer are dealt face up. Blackjack pays out at even money, although the player loses on a tie.

Atlantic City Blackjack allows you to double down on any two cards and double after a split. If the dealer has an ace or 10 point value as his up-card, he immediately glances at his down-card and takes all table bets on a blackjack (except for players with a natural blackjack).
However, when you find these games online they're almost always in virtual form. The games you'll find at live online casino are almost always the standard European game.
This is played with four decks and you can purchase insurance if the dealer shows an ace. Blackjack pays out 3 to 2, and there is a round of betting before cards are dealt.
Can you beat the dealer when playing live dealer blackjack?
No casino would ever offer a live table game that stack the odds in favour of the player all the time, though by using an optimal strategy you can maximise your chances of regularly coming out ahead.
This is easy to do with a strategy card, which will tell you exactly how to bet given what cards you've got and what upturned card the dealer has. This is where playing online has a great advantage as using a strategy card in a real live setting is not really allowed. At home or on your mobile, though, your secret is kept 100% safe.
Some players, though, like to practice what's known as Card Counting. This requires immense skill and relies on the fact that in live games real decks of cards are used. Card counters will memorise all the cards that have been dealt in the game and therefore know the probability of certain cards appearing again. It is worth noting that Card Counting is forbidden by most casinos.
Many players assume that casinos can't tell if you're counting cards, but over time, certain patterns of results indicate strongly that a player is counting, and though no casino can really prove you're engaging in this technique, they're well within their rights to ban you if they suspect you – which they will. Card Counting is considered to be unsportsmanlike, so it's better to stick to a strategy card instead.
NJ Live Dealer Roulette
Of all the casino table games none lends itself to live online play better than roulette. Its iconic looks, universal appeal and simplicity keep it at the top of the list for millions of avid players.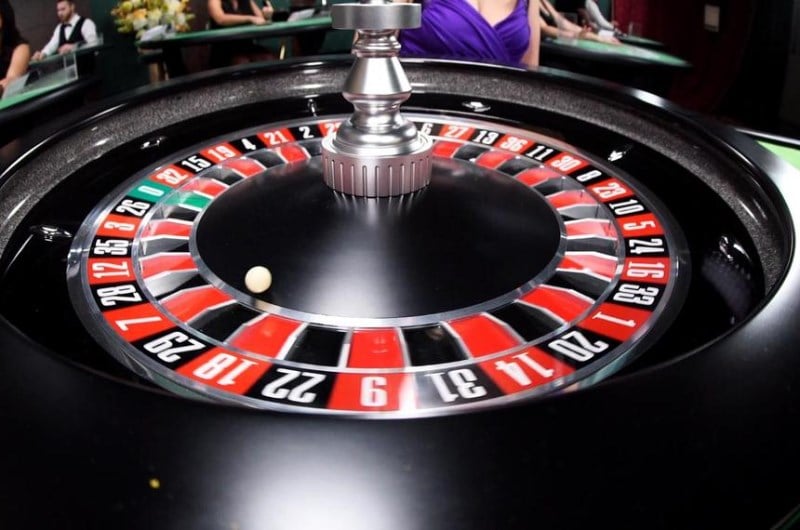 Live online roulette allows you to enjoy the glamour and spectacle of the world's most visually impressive casino table game in the comfort of your own home. To get started, you simply need to make a deposit or secure some free bonus cash, and then pick a live roulette room that offers games at the stakes you want to play at.
There are no limits as to how many players can join in a game at any one time, with no need to take up positions in chairs making it easy to let an unlimited number of players join in the fun.
Live Roulette Variations
While there are a number of roulette variations, the basic live roulette game uses the American-style games with the double zero format with a minimum wager of $1 and a maximum wager of $1,000.

Live Roulette Strategy
Once you've grasped the basics, how do you go about approaching the game like a pro? It's easier than you think: When newbie players hear words like Martingale, D'Alembert and LaBouchere they tend to panic – though in fact the science behind even the most complex of strategies isn't that hard to pick up.
The simpler methods instruct you to double up on losing bets or increase your bet by one unit – on the assumption that if you keep make the same bet it's bound to go your way sooner or later. Hardcore progressive methods like the Martingale can swallow up your bankroll quickly, though, so you need to watch out for any possibility of that occurring. If you're a more nervous player, you can use regressive systems instead: These require you to scale down your stake after a losing bet, on the assumption that you'll avoid losing too much. It's safer, but less likely to bankrupt you.
For the ultimate in generic systems the LaBouchere uses a set of custom-designed multiples to work along, that you'll eliminate from either end as you score wins and losses. It's an intriguing method and the most mathematically challenging, though with some practice it's not out of scope for even the most casual of players and you can have a great time figuring out how to customise this method to make a set of numbers that are 100% unique to you.
NJ Live Dealer Baccarat
Live dealer baccarat has become incredibly popular in recent years and the fast-paced nature of the game has ensured that all the online casino giants have moved rapidly to make sure they are covering the game in all its glory.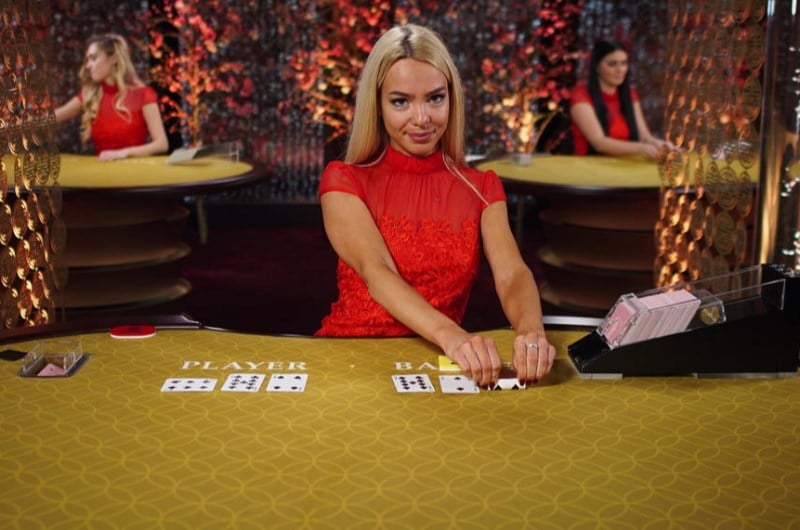 Just like real baccarat, the live version of the game involves a deck of cards, a banker, two dealers and then a highly skilled croupier that is in charge of making sure the game flows correctly. Imagine being able to play baccarat online with a real dealer shuffling and unveiling your cards while you sit back and relax from the comfort of your own home, safe in the knowledge that the game you are playing is no different to a real baccarat game.
The rules are still the same, either you will win, the banker will win, or the result will be tied, but instead of waiting for your results to unfold on a computer screen, you have play with a real life dealer who will be on webcam dealing you your cards. The fact you get to see actual cards being dealt from the deck gives gamblers far more confidence in the game they are playing, and they can relax safe in the knowledge that each hand is as fair as possible.
This is one of the main reasons players opt to play baccarat in NJ live dealer casinos rather than in regular casinos and though computerised games are played under strict rules and regulations, it is a great weight off the mind seeing a live dealer dish out the cards alongside a number of other players.
Why play Live Baccarat
Live Dealer Baccarat's popularity has stemmed from years of enjoyment from gamblers all over the world, and though your chances of winning are not too good, once players have played it they will tell you how fun the game can be.

Another aspect of the game that makes players go back for more and more is the pace at which it is played. There are rarely any dull moments at the table and it is rare you're left watching the clock in a live dealer baccarat game. With plenty of money on offer, with the action fast and the pace frenetic, it isn't hard to see why so many people head to the online casinos to play the game live.
Golden Nugget Live Dealer
Golden Nugget
was one of the first casinos in the state to offer NJ live dealer casino games. You will find live Blackjack, Roulette, Baccarat and Casino Poker which are all available from 12 pm to 3 am. The only exception is the Live Casino Floor Roulette which is available 24 hours a day, 7 days a week. The latter option is one of the most breathtaking live experiences in the state. Seeing the action from the casino floor makes you feel like you are a part of the action. This is a front row seat experience you won't want to miss.
If you love immersive live games, then we also highly recommend Live Multiview Roulette. An array of HD cameras delivers the action in a revolutionary new experience. Dynamic camera movements capture every spin and win in thrilling detail. There's no question - Golden Nugget is one of the best live dealer casinos in the state.
BetMGM Casino Live Dealer
BetMGM Casino
has a great selection of live dealer games; live versions of Baccarat, Blackjack and Roulette are all available to play at the site. There are also several Poker games including Three Card Poker and Ultimate Casino Hold'em.
The NJ live dealer games rooms are typically open from 11 am - 3 am every day with the exception of the roulette room. This room is open 24 hours a day meaning you can play the classic French casino game whenever and wherever you like.
Betfair NJ Casino Live Dealer
Betfair live dealer
games are available from 2 pm till 3 am or 3 pm till 3 am. You can play the following live dealer games: Blackjack, Roulette, Baccarat and Hold'em. This NJ online casino also features the ever popular Live Dealer Roulette Multiview game. What really impresses about the site is their VIP scheme, which has to be one of the best in the state.
Casinos will throw the word VIP around but will offer mediocre rewards. With Betfair's five tier system, every rung of the ladder brings better perks. You will start off with mere extra bonus rewards. But climb to the esteemed Platinum rank for VIP gifts, invites to events and your own VIP host.
Borgata Live Dealer
We have to give special thanks to
Borgata
for their offering. By adding live games in 2018, it inspired other casinos to do the same. Now: NJ patrons have more choice than ever before. You can play American Blackjack and American roulette live along with Baccarat Dragon Bonus and Casino Hold 'Em. Unfortunately, the brand does not offer any sort of European Live Roulette game. With the reduced house edge, this version of roulette would be even more appealing. The lobby is however easy to navigate and gives you the opportunity to favorite your most played games.
888 Live Dealer NJ
Thanks to Evolution Gaming,
888 Casino NJ
is now able to offer a deluxe range of live dealer NJ games. You will find Baccarat, Roulette, Blackjack and Texas Hold'em rooms open from 11 am until 3 am EST. If you tire of their live dealer games, then they also have an expansive range of over 200 video slots. Not to mention a range of high limit table games including American Roulette and European Roulette.
NJ Live Dealer Casino FAQ
Can I play live dealer games for free in New Jersey?
No, you can't. Live dealer tables only accept real money bets so you can't try for free. You can still observe what is happening during the game round.
Can I use a bonus to play NJ live dealer games?
Yes, bonuses can be used to play live dealer casino games. There may be restrictions on the bonus wagering, however.
Is it legal to play Live Dealer casino games in New Jersey?
It's 100% legal to play live games in the state - as long as you are playing with a regulated site with a valid gaming license.
What is the best live dealer casino in NJ?
The best site is BetMGM Casino. They have a wide selection of live games to play, which are available on all devices.